Free garage sale page.

Click here to place your free advert
Click Here for Latest Adverts
---

For Sale 01-11-00
KAWASAKI ZX10, NEW REGO, NEW BRAKES, ENGINE A1
Locale: PENRITH, SYDNEY
Name: eRIK
Phone: 0426179878
Email: EREURTSgh9@YAHOY.COM
---

1950 sunbeam 500cc 1950
Locale: miami
Name: joel
Phone:
Email: jgada23gh9@hotmale.com

---

Wanted 29/10/00
NEEDED HONDA CB 500/4 IN GOOD CON
TO BE USED FOR RACING
Locale: WERRIBEE, VICTORIA , AUSTRALIA
Name: RAY RIXON
Phone: 97416539
Email: CRIXONgh9@OPTUSNET.com

---

Wanted 29/10/00
Mufflers to suit 1982 Honda GL1100 GOLDWING stainless or chrome
Locale: COOROY SUN COAST QLD
Name: Gary
Phone: 0419 661408
Email: garyheathergh9@loanquote.net

---

Wanted 29/10/00
REQUIRE ROTOR, MAGNETO ECT FOR 85 LT 250R ALSO NEED NEW PLASTICS URGENT
Locale: DARWIN
Name: KEN HEWITT
Phone: 0415131629
08 89881484
Email:

---

For Sale 29.10.00
1996 rgv blue white new cond 12000 klm new tyres regular service
Locale: melbourne
Name: craig
Phone: 0418343461
Email:

---

Wanted 29/10/00
1996 BMW R1100Rt -Used Right hand side cover
Small Black cover
Locale:
Name: Barry Freeman
Phone:
Email: bfreemangh9@uniserva.com

---

For Sale 29-10-2000
xr750 1980 new xr750 1975restored xr1000 new xr1000 10000miles xrtt drums brake like new xrtt discs brake like new one lot make offer
Locale: france
Name: oliver
Phone: 01 49 45 01 89
Email: muriolgh9@aolcom

---

For Sale 10-29-00
hitchiker travel thats towed behind your motorcycle.sleeps two easily.light weight & easy to tow.has many options including air conditioning. this is not a pop up check out our web sight thanks.www.hitchikertrailerss.com
Locale: central ga.
Name: carey
Phone: 1-877-956-3929
Email: hitchikersRusgh9@ispralli.com

---

Wanted 10/29/00
'91-'96 Ducati 900 ss/cr front fender and lft. side half fairing. Good to exc. cond. only.
Locale: N. Cal. USA
Name: S. Strom
Phone: (916)962-3561
Email: bigguylbgh9@ispralli.com
---

10-30-00
CR250 engine needed between 1989-1990. Must run well.
Locale: New Jersey
Name: George
Phone: (609)-242-1741
Email: smokyburnowtgh9@adelphia.net
---

Wanted 30/10/00
WANTED::: any of the following tires. NEW OLD STOCK ONLY......
GoodYear 5.00x16 Eagle,Super Eagle,(black or wide white wall) 3.25x 19" GoodYear Eagle or Super Eagle
3.50x18 GoodYear Eagle or Super Eagle,3.50x16" GoodYear Eagle or Super Eagle or 3,25 x 19" Firestone sportsman or All-Weather tires. Will pay your price or have lots of vintage American and British parts to trade
Locale: texas
Name: Mutt
Phone: (903) 873-6644
Email: pigstye13gh9@ispralli.com
---

Wanted 30/10/00
WANTED::: any or all of a 1958 to 62 BSA 500c.c./650 c.c. pre-unit twin clutch. Need ALL the parts EXCEPT for the fiber clutch plates themselves, Wii buy one piece or the whole assembly.
Locale: texas
Name: Mutt
Phone: (903) 873-6644
Email: pigstye13gh9@ispralli.com
---

31/10/00
WANTED:KTM LARGE 4 STROKE UP TO
$6500 CAN ANYONE HELP
Locale: NSW AUSTRALIA
Name: ASH
Email: carservgh9@bigpond.com
---

For Sale 1/11/00
1994 gpx 250 24000 klms, just been repainted but no decals, hardly ridden..
reason for sale: Girlfriend!! best offer over $3500
Locale: Cobrug. Victoria
Name: Adam
Phone: 0409 577 198
Email: kixdjadamgh9@hotmale.com

---

Wanted 10/24/00
* 73-74 norton commando
* mid seventies Honda 750 SS
* 73-73 Kawasaki Z1-R
I know everybody wants these but all leads are apprechiated.
Locale: Charlotte, NC
Name: andy
Phone: 704-553-7326
704-957-0191
Email: ahiccoxgh9@carolina.com
---

Wanted 26/10/00
Wanted Suzuki GR650 Tempter 1983 parts. Any parts including instrument panel chain, spockets and tail lamp assy.
Locale: Boston, MA USA
Name: S Minocher
Phone: (617) 377 1045
Email: sminochergh9@buy-soft.biz
---

For Sale 10/25/00
1966 HARLEY DAVIDSON FLH. FIRST YEAR SHOVELHEAD MANY EXTRAS, GREAT SHAPE $12,500 OBO
Locale: WESTERN COLORADO
Name: ED BRUNO
Phone: 970-945-6259
970-625-3771
Email: ebruno2340gh9@ispralli.com
---

For Sale 10/25/00
1965 HARLEY DAVIDSON SERVICAR. 45CI FLATHEAD 99%RESTORATION $10,000 OR TRADE FOR XR750
CALL ED IN COLORADO 970-625-3771
OR 970-945-6259
Locale: WESTERN COLORADO
Name: ED BRUNO
Phone: 970 945 6259
970 625 3771
Email: ebruno2340gh9@ispralli.com
---

For Sale 10/25/00
1995 fxsts. real beauty. black-yellow. chrome galore. 19100 mi. ready for spring. email for pics and info.
Locale: tomah wis.
Name: harold
Phone: 608 372 2988
Email: grobegh9@tomah.com
---

Wanted 10\25\00
FRONT EXHAUST PIPE YAMAHA IT 250 1983
Locale:
Name: STEVE
Email: hirllorgh9@buy-soft.biz
---

For Sale 25/10/00
FJ1200 - 86 MODEL $1500 - CRASH VICTIM - ONLY A LITTLE WORK NEEDED FOR REPAIRS - INCLUDES A YOU BEAUT OHLINS SHOCK - OR A GOOD WRECKER .
Locale: WOLLONGONG
Name: MAZZ
Phone: (02)42570669
0419989305
Email: Mazzinimangh9@loanquote.net
---

For Sale 25/10/00
Kawasaki z1 900 engine, good running condition, offers considered.
Locale: Brisbane
Name: COOK B
Email: cookbdgh9@powerup.com
---

For Sale 23/10/00
94 Honda PC800 - 4753 Miles, pleasure riding, blk/gray In mint condition (showroom). $4500 OBO (reasonable)
Locale: Santa Clarita, CA
Name: cynthia
Email: cynthia.maciasgh9@sglcarbon.com
---

For Sale 10/24/00
1974 Yamaha TZ 250 Drag Bike w/ 750 cyls.(375cc) Lectrons, Motor by Don Vesco. Have almost all stocks parts except for tank and original fairing. Loads of spare parts, pipes, etc. in storage for 15 years. asking $700 obo
Locale: Cincinnati, Ohio
Name: Mike Hufnagel
Phone: 513-931-5540
513-244-5161
Email: mike_hufnagelgh9@ispralli.com
---

Wanted 10=24=00
Need C.D.I. ignition for a 1975 Yamaha MX 400. And stock bore cylinder for 1972 RT2 MX.
Locale: Ohio - USA
Name: Terry Dennis
Phone: (330)656-4094
Email: Terrible-Terrygh9@webtv.net
---

For Sale 24/10/00
1997 Kawasaki ZZR250 (XIV-06) Dec 2000 rego Ex Cond. 6500Km. Ladies bike, moving on to something larger.
Locale: Penrith NSW
Name: Yvonne PAXTON
Phone: 02-47361645
02 98916146
Email: nil
---

Wanted 24/10/00
wanted:documentation,writen evidence of Suzuki T/TR500 being raced in 1967,ie:race programs,factory infomation,any publications relating to this machine being raced.
Locale: U.K.
Name: Ian
Email: ianfauldsgh9@redhotant.com
---

For Sale 23/10/00
bmw R75, zündapp KS750, WH-trailer copy of MG-34
Locale: europe
Name: jean noël
Email: guzzi.cannesgh9@wanadoo.fr
---

For Sale 26/10/2000
4 honda 300 dreams basket cases one competly stripped & blasted frame,can make 2 out of 4
Locale: ecru mississippi
Name: barry dobbs
Phone: 6624897957
Email: somdiffgh9@tsixroadss.com
---

For Sale 27/10/00
Manx Norton, 1958 350cc Summerfield replica. Full rebuild from new parts (1994) with 350cc summerfield engine, 5 speed PGT gearbox, only raced 3 times. £12,000. Sale due to bereavement.
Locale: North Yorkshire, UK
Name: Richard Bellerby
Email: richard.bellerbygh9@gfi.uib.no
---

For Sale 23/10/00
MV agusta
350 cc 2cylinders
Locale: europe
Name: jean noël
Email: guzzi.cannesgh9@wanadoo.fr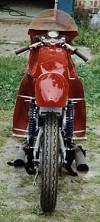 ---
For Sale 23/10/2000
1996 YAMAHA XJ900S 27,000 KMLS,COLOUR BLACK, GIVI 44 LT TOPBOX, NEAR NEW TYRES, EXCELLENT CONDITION, ALWAYS GARAGED, ONLY USED FOR TOURING, SERVICES ALWAYS CARRIED OUT BY YAMAHA DEALER, SPEEP SKIN SEAT COVER, PRICE $9,000
Locale: Melbourne
Name: Gavin
Phone: 0398935424
0418314829
Email: gavdaygh9@loanquote.net

---

Wanted 231000
R/H Sidecover to a Honda CB750 Custom-81.who can help me with that ?
Locale: Sweden
Name: Nikolas
Email: niklas.svangh9@braathens.se

---

For Sale 23/10/00
XS650SH. 1981. Black. New rear tyre. New mufflers. Goes well. (Queensland)
$2000 0407625248 or only58gh9@buy-soft.biz
Locale: Brisbane
Name: Graeme
Phone: 0407625248
Email: only58gh9@buy-soft.biz

---

21/10/00
WANTED :NIMBUS 1953 YR.MODEL 4=CYL.
Locale: ANY
Name: JOHN
Phone: 3039860151
3033248726
Email: DOOMJgh9@EXEMPLA.ORG

---

For Sale 1957
Vespa 150 3 spd goes good, yellow, would make good resto or ride as is,wide body style very nice old style. $1575.00 ono
Locale: Sth Gippsland Victoria Australia
Name: Bob
Phone: 0418 517622
Email: mccrackengh9@netspace.net.au

---

For Sale 21/10/00
BMW K100 Topbox vgc $150
Locale: Sydney
Phone: 0429 190450
Email: kseriesgh9@Dropbears.com
---
Wanted 20/10/00
Item: Ducati spares for bevel 750/900 SS 1975-80, or complete bike, preferred 1975
Locale: Belgium, Europe
Name: Gier, Achim

Email: agigh9@wagon-automotive.be

---

For Sale 20/10/00
Item: 1914 Limited motorcycle, The best original of only 5 remaining. us $89k
Locale: us
Name: J Lapp
Email: mrexeclentgh9@juno.com

---

For Sale 10.20.00
Item: 1999 SUZUKI TL1000R, BLUE & WHITE, VERY GOOD CONDITION! LOW MILES,BRA,TINTED SHIELD. GARAGE KEPT!
Locale: MEMPHIS,TN
Name: WENDY HOWELL
Email: WENDYBH_2000gh9@YAHOY.COM

---

For Sale 19/10/00
Item: RACE FAIRING TO SUIT 1993-1995 ZXR750. Front 2-piece, top and bottom fairing only, excellent condition, ready for paint.
$300 or offers
Locale: Sydney, Australia
Name: Paul
Email: snoboardergh9@loanquote.net

---

For Sale
Item: 1999-2001 Yamaha YZ 125/250 Front & Rear Rims with Rotors, Stock hubs with Excel Rims. $600.00obo Also many other YZ parts for sale.
Locale: Rockford, IL USA
Name: Ryan
Phone: 815-654-9002
Phone2:
Email: Flyin24gh9@ispralli.com
---

For Sale 19/10/20
Item: 84 model cr80, very quick, water cooled, new coil,mono shock,$600ono
Locale: benarkin,QLD
Name: robert
Phone: (07) 41 700 198
Phone2:
Email:

---

For Sale 10/18/00
Item: Service/Repair Manual for Yamaha
RD 400 (C & D) 1976
Good Condition - $20.00 + shipping
Locale: New York State
Name: Fred
Phone: 716 - 754-0095
Phone2:
Email: fgreulichgh9@adelphia.net

---

For Sale 10/17/2000
Item: Yamaha YZF-1000R1,1999.9,000mls.
Good bike new tires, Yoshi pro-series RS-3 slip on.
Locale: United States. Massachusetts
Name: John Pittman
Phone: 978-249-5867
Phone2:
Email: jpittmanbluejaygh9@gateway.net

---
Wanted 17.10.00
Item: tyres: 2.75 X 21 s/h trials bike tyres for scythe
Locale: norfolk
Name: ian boast
Email: ian.boastgh9@hemscots.net
Wanted 17/10/2000
Item: KAWASAKI KX 100. GOOD CONDITION
UP TO £750.
Locale: England NORTHANTS
Name: John Stevenson
Phone: 01933 383667
Phone2: N/A
Email: kylegh9@kmorgan88.freeserve.com
Wanted 16\10\00
Item: Parts for a klx250b,motor,ect
Item: klx 250b81 motor good condition will pay $250
Locale: Perth Australia
Name: Brendan
Phone: 94177510
Phone2: 94174497
Email: bikerboy105gh9@hotmale.com
Wanted 16/10/00
Item: Triumph Sprint 1996 Bits + Grey Motor with low k's. Green top box and panniers.
Locale: Hornsby, NSW Australia
Name: Simon
Email: simon.disneygh9@loanquote.net
Wanted 16/10/00
Item: fairing wanted for kawazaki gpz900r 1986
Locale:
Name: Sverrir Sigurdsson
Phone: 6928665
Email: dianalgh9@binet.is
Hmm... I don't think that's Texas, Tonto.

For Sale 10/15/00
Item: '73 Kawasaki 900 Z1; excellent condition; 11,000 miles total, always kept indoors. No wrecks; all original. Price:$5,000.
Locale: north Alabama
Name: Raymond W Conrad
Phone: 256 332 4627
Email: RaymondWConradgh9@css.com
Wanted 101600
Item: Parts for a Coleman 5 hp Brigg mini bike. This is a 5 speed. Dated around 1968.
Locale: Merrill, Mich. USA
Name: James Geiger
Phone: 517-643-5696
Email: edmijgh9@webtv.net
Wanted 15/10/00
Item: Suzuki Bandit bits: fr discs ,fr wheel, foot peg brackets,foot pegs, gear lever muffler bracket, sports exhaust.
Locale: sydney
Name: Jeff Brown
Phone: 02 9938 1920
Email: jeffbrown69augh9@yahoo.com
For Sale 15/10/00
Item: Trailer, Fibreglass, lockable with spare tyre & bra. $1000
Locale: sydney
Name: Jeff Brown
Phone: 02 9938 1920
Email: jeffbrown69augh9@yahoo.com
For Sale 15/10/00
Item: 1994 Triumph Sprint with H.R.D. sidecar. 35,000 kms full service history,ex.cond.Dynojet carb kit, K&N filter, Staintune mufflers, Bagster tank bag & cover, alarm, many more extras.Selling due to kids outgrowing sidecar.
Locale: sydney
Name: Jeff Brown
Phone: 02 9938 1920
Phone2:
Email: jeffbrown69augh9@yahoo.com
Wanted 15/10/00
Item: looking for a front rim and axel for a honda atc 110 or 90 three wheeler !
Locale: yarwonga victoria australia
Name: Mark Lucas
Phone: 57 268334
Email: mark222gh9@iprimuss.com
For Sale 14/10/2000
Item: USED CARBURATORS FOR SALE:
DELLORTO MA 1989 FOR LAMBRETA ¿1958?.
DELLORTO : UA19S ¿ MODEL SCOOTER??
DELLORTO RC26 FOR:
1952 Bianchi Bianchina 125cc
1952 Minarelli Sport 160cc
1956 Moto Guzzi Ercole 500cc
1953 Miva L 175cc
Anothers Ccarburators BING: 1/22/164 and 1/22/164m for
FICHTEL SACH 100/4 S; (and more old BINGS).
Another strange carb without mane # 2/24/46 with 21 degrees.
CABURATOR:JIKOV #DJ , and JIKOV #TK, (both with same body number:2926SBDb2802)for:
JAWA MOTORCYCLE 350,(type 632/000,type 632/001,632/003,632/004,633,634).
phf66gh9@buy-soft.biz
Locale: MÉXICO CITY, MÉXICO COUNTRY.
Name: PEDRO HERRERA
Phone:
Phone2:
Email: phf66gh9@buy-soft.biz

For Sale 10/13/00
Item: 2000 Suzuki Katana 600 Very low miles Yoshi Carbon fiber pipe excellent condition
Locale: Plattsburgh NY
Name: Ed
Email: esavage1gh9@localnet.com
For Sale 12/10/00
Item: CHAPARRAL #1 JEREMY McGRATH JERSEY
RED SIGNED AND FRAMED ( ONE OF 30 THAT CAME INTO AUST FROM NO FEAR )
Locale: ADELAIDE, AUSTRALIA
Name: JOE LECK
Phone: 08 8297 0622
Email: bikemastergh9@yamahaworld.com
For Sale 10-12-00
Item: 1984 honda xr200 very good shape for a 84 model you will haft to see it to beleve it asking $1ooo
Locale: dilley texas
Name: jason chopelas
Phone: 830-965-1386 jason
Email:
For Sale 11/11/2000
Item: HONDA CBR900 Engine. 1999. Complete with all running gear. OFFERS.
Locale: Derbyshire, England.
Name: Lee Marsh
Phone: 01246 854862
Phone2: 07968 537997
Email: sportbikeleegh9@zoom.com

Wanted 10/11/00
Item: moto guzzi 1000 cc engin parts-convert parts
Locale: buxton nc
Name: bill francis
Phone: 252-995-5450- 7:30 to 4:00
Email: wmsdfrangh9@interpath.com
Wanted 10/10/00
Item: Wanted1984 onward 600-900cc naked road bike must be in excellent condition low miles under $5000
Locale: Adelaide
Name: Leighton
Phone:
Email: v_leightongh9@hotmale.com
For Sale 10/9/00
Item: 1989 yz125 renthal bars, dunlop front and rear tires,
good bike, needs ignition stator $900
Locale: rutherford,n.c.
Name: Ben
Phone: (828)286-3628
Phone2: (828)286-0053
Email: rover_ov_lovgh9@buy-soft.biz
wanted 10/04/00
Item: bmw 1150 gs hard saddle bags and top box
Locale: San Diego CA
Name: Ken Dinckan
Phone: 7604341131
Email: kdinckangh9@juno.com
For Sale
Item: mz 125 engine rebuild tons of spare parts good runner no M.O.T £100
Locale: calstock cornwall
Name: philip lewis
Phone: 01822 833564
For Sale 03/10/00
Item: Honda SL125 seat cover (New)£25
Locale: UK
Name: Mark
Email: burgesshousegh9@ispralli.com
For sale: Genuine American Kawasaki Voyager - 6-cylinder, 1300cc, owned by Ulysses member. All the accessories you could ever want. Call Noel on 0417 058 827, e-mail noelwiltgh9@mpx.com. $13,000 neg, located in Victoria.
For Sale 16/8/00
Item: Kawasaki GPZ1100 1983 model, good condition, new chain and rear sprocket, near new tyres, reg 9/00,
$2000 ono
Locale: Moruya, NSW
Name: Jon Ryan
Email: jon.ryangh9@eurocoast.nsw.gov.au
For Sale 08/17/00
Item: 1998 Buell S1White Lightning..2yrs left on warr., all white, twin tail, corbin seat, all billet, vance & hines, k&n sidewinder, jet kit, jagg oil cooler, braided lines, solid motor mounts, 54mm clip on bars, 4300 miles, bike bought new in 1999, immaculate, have all stock parts..will include buell cover...$9000 obo.
Locale: Springfiled VA
Name: Dave Mathis
Phone: 703/913-8334
Email: David.Mathisgh9@dyncorp.com
For Sale 20/08/00
Item: BMW K100 silver 1986. panniers & top box. Heated grips, new battery & recent BMW major service. 12 months reg. $3500
Locale: MELBOURNE
Name: TERRY
Phone: 03 9367 3948
Email: maladyterrygh9@netscape.net
For Sale 23.08.00
Item: MOTO GUZZI Le Mans 111
original silver colour , new heads/barrells/pirhana ign/timing gears /SS 2into 1 exhaust/ fournales shocks
Reg in South australia $5850
Locale: south of adelaide
Name: Neil
Phone: 08-85562929
Email: panaxgh9@internode.net.au
Wanted 23/08/00
Item: Wanted - Staintune or similar for VFR800. Must be in immaculate condition.
Locale: Canberra
Name: Graham Bamford
Phone: 02-62303116
Phone2: 0412-015912
Email: graham_bamfordgh9@optusnet.com
Wanted 13/08/00
Item: TWIN TRIUMPH OR NORTON WANTED FOR RESTORATION TO CAFE RACER. PREPARED TO CONSIDER ANYTHING FROM BASKET CASE UP TO COMPLETELY RESTORED BIKE.
Locale: SYDNEY
Name: MILAN
Phone: 0411506656
Phone2: 93373047
Email: FASTBOYgh9@LOOKSMART.com
Wanted 080800
Item: Any parts for Suzuki K10/11 anything,please reply
Locale: NSW
Name: Dick
Phone:
Email: stihlmangh9@ix.net.au
Wanted 11/8/2000
Item: zx7r ninja 96 mod parts wanted, front end parts and fairing.
Locale: melbourne victoria
Name: mick mara
Phone: (03) 9548 2260
Phone2: 0404174376
Email: mad.doggh9@tig.com
For Sale 13/8/00
Item: BMW R65 dual shock 1983 in good condition. Recent replacement of tank and near new Koni shocks on the rear.
Locale: Melbourne
Name: Tom
Phone:
Email: mohlertgh9@hotmale.com
For Sale 13/8/00
Item: Sidcovers (Pr) BMW R 80 G/S original white with decals
Good condition
Locale: Moonee Ponds VIC
Name: Ralph Green
Phone: (03) 9375 1663
Phone2: (03) 5221 1791
Email: rverdegh9@ozemail.com
For Sale 08-13-00
Item: 82 ELR S1 PARTS
Locale: NY USA
Name: AL
Phone: 518-872-0134
Email: BIGSHOT001gh9@HOTMAID.COM
Wanted 14/8/00
Item: stock exhaust system plus rear foot peg hangers and workshop manual for TL1000s
Locale: tasmania
Name: Dale
Phone: 03/63431089
Email: dburniegh9@vtown.com
Wanted 11/08/00
Item: Sports exhaust/mufflers for ZZR1100C2 reasonable life left in them please! Also mini bike 50-70cc
Locale: Lismore NSW
Name: Ben
Phone: 0412666950
Email: bgraydo1gh9@scu.com.au.au
For Sale 08/08/00
Item: BMW RS REPLICA FAIRING (TOP HALF ONLY), INCLUDING ALL MOUNTING BRACKETS, ETC. BLACK WITH TINTED VISOR
Locale: NSW, AUSTRALIA
Name:
Email: walterthomasgh9@start.com
Wanted 8/8/00
Item: VFR750 96 OR 97 FRAME
Locale: NSW
Name: TONY
Phone: 0414447444
Email: kitty67gh9@one.net
For sale: 8/8/00
Item: Honda CR125 82mdl Water cooled, pro-link suspension, with
adjustable rear shock. Two weeks old top end rebuild with re-bore and
Wiseco piston/ring kit (still running in). Bike re-built, re-sprayed,
looks great, excellent condition, very fast. Twin radiators, motor
cross tyres in good condition, and brakes, with spare rear tyre, O-ring
chain, new CR gear selector, new NGK R race spark plug, spare rear
sprocket, and manual. $1500 ono
Locale: Macedon
Name: Clinton
Phone: 54262342
Phone2:
Email: xlrider250gh9@hotmale.com
Wanted 08-08-00
Item: Kawasaki ZZR or GPX 250 up to $3000
Locale: Sydney
Name: Dave
Phone:
Email: kawzx7rgh9@hotmale.com
For Sale 06/08/00
Item: BMW K75 RT Immaculate condition with low seat and screen sheepskin CB/Intercom and many other extras $10,990. Suit New buyer.
Locale: Newcastle
Name: Ray
Phone: 02 4987 3840
Phone2: 02 4966 9929
Email: buscombegh9@idl.net.au
Wanted 08/04/99
Item: 1999 Suzuki GSX-1300-R Hayabuse Complete cowling kit (Fairing), and other busa parts
Locale:
Name: Zeke Lofton
Phone: 870-536-9715
Phone2:
Email: zeke2410gh9@juno.com
Wanted 3/8/2000
Item: Looking for interested riders from Bendigo to the Phillip Island Grand Prix.
Possibly to leave Sat. morning to link up with MRA ride from Cranbourne at 10 am.
Plans yet to be finalised. Any interest welcome, Don't know many other riders!
Locale: Bendigo, Vic.
Name:
Phone:
Phone2:
Email: franniegh9@impulse.net.au
For Sale 030800
Item: Suzuki Katana GSX-750 SF, '1984, pop-up h/light, silver-grey service history, Oring chain, new battery, good tyres, 4into1 with gold anodised alloy muffler, Gearsack rack, seat professionally lowered, 2001 reg no - ST104, Very Good Original Cond. No short running - used for long trips only. I'm a granny, so as you could imagine, it has never been flogged!
Ph 0353 823833 (Lorelle gh9@ Horsham) or 03 9429 2524 (Gary gh9@ Melbourne)
Payment by Cash or Bank Chq only - $2800 firm
For Sale 01/08/00
Item: Ninja 1984 GPZ900 that has been collecting dust for about 9 years. At least that is how old my little girls is. I have taken it out a couple times a year. I am looking to purchase the new 1200. I would like to get sale the 900, but do not want to give it up to some young kid who will thrash it.
Do you know of anyone who might need it. It has one 2" chip off of the front mid fairing, left side at the end where it meets the tank. The seat has been recovered. It has SuperTrap slip-ons and a Lauchart Tinted Shield. Everything else is stock. I also have an extra rear break disk, I purchased, but never installed.
Locale: San Jose, CA
Name: Larry Jackson
Phone: 408-227-5724
Phone2:
Email: ljaxngh9@excita.com
For Sale 02/08/00
Item: BMW R80 Mono '94 model, 09/00 rego, 40,000klm ,Koni rear shock/H.P. front springs, little used, black in colour $8000
Locale: Central Coast
Name: John
Phone: 02 43696042
Phone2:
Email: johnl.newmangh9@dvd.gov.au
Wanted 7-01-00
Item: Dunlop d207 tire 160/60/17
Locale: Scranton PA.
Name: Lashawn Lucke
Phone: 570-842-6825
Phone2: 570-689-5072
Email: LashawnL72394911gh9@ispralli.com
For Sale 1/8/2000
Item: Honda NS400R Quick 2-stroke Excellent condition.
Rego 3/2001 $2400.00 O.N.O
Locale: Maclean, Northern NSW
Name: Greg Allen
Phone: 02 66451910
Phone2:
Email: gallengh9@dnet.aunz.com
Wanted 31/7/00
Item: VFR750,1996 OR 1997 FRAME WANTED
Locale: SYDNEY
Name: TONY
Phone:
Phone2:
Email: KITTY67gh9@ONE NET. COM.AU
Wanted 01/08/00
Item: SUZUKI GSX1100G (shaft driven model) in good condition, reasonable price.
Locale: Adelaide SOUTH AUSTRALIA
Name: Brian
Phone: 0402109767
Phone2:
Email: covenantgh9@camtech.net.au
For Sale 31/07/00
Item: T'Shirts, Stubbie Holders. All related
to bikes. Will print your size and colour.
Many styles. Trade, Club and bulk order
discounts available. Will design on commission.
Phone for mail order catalogue.
Locale: Melbourne
Name: Lindsay
Phone: 0410-429-914
Wanted 31/07/00
Item: Baby Bro has crashed the 'blade again so big sister
needs to fix it!
I need: Bar ends, Clutch Lever and
Bracket, Left Clip-on, Left
Foot-peg and bracket, left rear-set
and bracket. Also headlight and
fairings for '95mdl or fairings for '93 mdl.
Will consider fibreglass. HELP Please
Locale: Melbourne
Name: Anne
Phone: 03-9537-0765 Bh
Phone2: 0419-507-669
Email: annegh9@solutions101.com
For Sale 31/07/00
Item: NSR250 Screen. Scratched but OK. $40
Locale: Melbourne
Name: Lindsay
Phone: 0410-429-914
For Sale 31/07/00
Item: RC30 Aftermarket Fibreglass fairing.
White jellcoat, with headlight holes
and tinted screen. $600 OBO
Locale: Melbourne
Name: Anne
Phone: 03-9537-0765 BH
Phone2:
Email: annegh9@solutions101.com
Adverts pre August 2000

Click here to place your free advert




[Home] [Back Issues]
[Roadtests] [Travels] [Calendars]