Resources for supporters of the Russian performance artists
Seen by many as a beacon for democracy and freedom of speech in an increasingly embattled Russian republic, Pussy Riot's resistance to Putin's extremism is gaining support from tens of thousands all over the globe.
Help put a stop to the persecution of these brave women.
Yekaterina Samutsevich: Closing Statement at the Pussy Riot Trial
chtodelat news

Video of the event for which the activists were jailed.

"Critics of the Russian government say the women's real crime was not offending God or the Orthodox Church, but the country's true high power ó Mr. Putin," David Herszenhorn wrote in The New York Times on Aug. 2.
Pussy Riot Trial / EngPussyRiot / Free Pussy Riot
"....and the appalling economic stratification in society, is leading Russia toward a large-scale rebellion on the order of the Arab Spring or the 1917 Russian Revolution.:"
http://eng-pussy-riot.livejournal.com/
News Roundup at AnimalNewYork.com
http://www.animalnewyork.com/2012/pussy-riot-post-trial-round-up-volume-5
Pussy Riot Global Day 17 August
http://freepussyriot.org/en/actions
AMNESTY INTERNATIONAL
Pussy Riot at Amnesty International (UK)
http://takeaction.amnestyusa.org (USA)
Amnesty Australia: Pussy Riot (3700 results)
Amnesty UK: Pussy Riot
Amnesty USA: Pussy Riot
Twitter: Pussy Riot
Twitter: Gruppa Voina
Globalpost.com: Pussy Riot: Russia's deputy prime minister calls Madonna a whore
The Australian: Pussy Riot (Murdoch Press)
Sydney Morning Herald: Pussy Riot
New York Times: Pussy Riot The verdict is a blow to Russiaís future. For now, goodbye Europe!
A Verdict Against RussiaForbes: Pussy Riot
Russia OGGI: Pussy Riot
Hooligans
La Parisienne: Pussy Riot
Les Punkettes
Suomen Kuvalehti.fi: Pussy Riot
GUARDIAN: Pussy Riot trial 'worse than Soviet era'
http://bit.ly/PtJnnb
Guardian: Pussy Riot's crime was violating the sacred.
TIME: Russia's Pussy Riot Trial: A Kangaroo Court Goes on a Witch Hunt http://ti.me/OPlcU3
FOREIGN POLICY: Making Punk a Threat Again. Is Pussy Riot already the most politically influential punk rock group ever? http://bit.ly/OGUISU
Evening Standard (UK)
Pussy Riot power - how Russian punks became the most important band on the planet
FORBES: Pussy Riot's Strange New Defender
MOSCOW TIMES; The Laughing Stock of the World
MOTHER JONES: Balaclavas Unite
WIRED: Rally Cry for Russian Expats
Putinís Prosecutors Threaten Protest Blogger With Decade in Jail
Friends of Pussy Riot
Czech
on FB
French
Russie-libertes.org becomes a mirror for freepussyriot.org
UK
http://eng-pussy-riot.livejournal.com/14685.html
Tibetan
http://tibetanaltar.blogspot.com.au/2012/08/free-pussy-riot.html
German
Volker Beck
Member of the German Bundestag
http://beckstage.volkerbeck.de/2012/08/07/freepussyriot/
On this site there is a pdf letter to the Russian Ambassador signed by four German MPs and supported by a further 100 or so.
Klaus H. Walter
on FB
Dazed & Confused
dazeddigital.com: Pussy Riot
facebook.com/DazedandConfusedMagazine
Larger FB Pages
https://www.facebook.com/PutOutPutin

Related Demos etc
Demo against Putin and Assad
Musicians
Red Hot Chili Peppers supported Pussy Riot by wearing a T-shirt at concert in Moscow https://www.youtube.com/watch?v=J2u3-ukfwIg
Madonna's speech in support of the Pussy Riot at the concert in Moscow Madonna Free Pussy Riot https://www.youtube.com/watch?v=mFISl5ypzIQ
Bjork
Huffpost: Bjork supports PussyRiot
Digital Spy: Bjork
Faith No More
Mike Patton, the lead singer of the rock group Faith No More, performed in a mask to support the punk rock group Pussy Riot during his bandís concert in Moscow in early July.
Paul McCartney, on his website...
British Rockers
The Who's Pete Townshend, former Pulp frontman Jarvis Cocker, Neil Tennant of the Pet Shop Boys and others call for the release of the three members of Pussy Riot in a letter published Thursday in The Times of London.
Top British rockers seek release of Russia's Pussy Riot

Sting tweeted: #Russia is urged to drop charges and release #PussyRiot
Sting article at Amnesty
Patti Smith
www.nrk.no (embeddable video)
Franz Ferdinand in The Guardian
Damn Terran Melbourne Punk Band
My Sydney Riot.com
Pussy Riot: will Vladimir Putin regret taking on Russiaís cool women punks? (reprinted from The Guardian)
Artists
A painter has stitched his mouth closed in Russia's second city of St Petersburg to protest the trial of three women from the Pussy Riot punk group.
http://en.rian.ru/society/20120724/174748125.html
http://www.verbicidemagazine.com/category/news/page/3/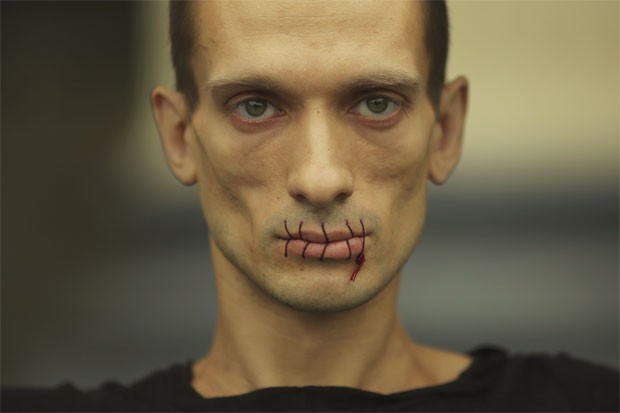 Russian artist Pyotr Pavlensky
Hotlinked from verbicidemagazine.com
Art on the barricades
http://noartgallery.org/archives/361
http://noartgallery.org/archives/tag/party-riot-bus
Includes links to numerous other Pussy pages
Palais de Tokyo, Paris
Pussy Riot Exhibition
Permanent Wave
A network of feminist artists and activists
Sveta Shuvaeva
https://www.facebook.com/Svetasuv
Cartoonists
NakedPastor.com
http://www.nakedpastor.com/2012/08/
CagleCartoons
Use the search box
http://www.caglecartoons.com/
| | |
| --- | --- |
| | |
| Free Pussy Riot | Free Pussy Riot by Molly Crabapple |
| | |
| --- | --- |
| | |
| Free Pussy Riot | Free Pussy Riot |
Pussy Riot images
* Most are from Facebook and are unattributed. This will be addressed as more information is collected.
Molly Crabapple
Latuff Cartoons
ItsaKirby
Layla Sailor
Jamie Reid creator of the graphics for the 70's Punk band, the Sex Pistols
Merchandise
(please check that profits are utilised appropriately)
Pussy Riot Tshirts
http://www.backstreet-merch.com/stores/nme/product.asp?item=PSYRT03
Fear No Art Posters by Layla Sailor
http://kokoshnik.bigcartel.com/

Related Books
Mafia State
Vladimir Putin
More Pussy Riot sites
freepussyriot.com - a US site with several videos
Russian Embassies and Consulates (lists locations and contact information)
http://www.russianembassy.net/
Dubious "Me Too" sites, pages, articles...
http://gothamist.com/2012/08/10/brooklyn_musician_talks_about_near.php
"Um, I went to this -- if it was a benefit, I didn't see a SINGLE piece of evidence. No cover, no mention of Pussy Riot, no collection taken up, no info table...."
Oh, and another really good cause, and in my view equally as important:
http://theoatmeal.com/blog/tesla_museum (also very effin funny!)