News #37, April 4 2000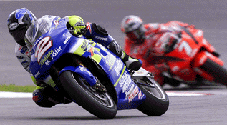 That audible sigh you heard Sunday night was from GP tipsters expressing relief at Kenny Roberts (pictured) - widely considered one of the top contenders for this year's 500 GP crown - winning round two of the series at Sepang in Malaysia.
Most of the race action happened early, with Roberts just missing a fallen world champ Alex Criville early in the event after the latter collided with a highsiding Capirossi.
Carlos Checa impressed with a stunning ride, leading the race until lap nine and finally scoring a convincing second.
Next point of interest was the Biaggi/McCoy dice for third, which McCoy finally stamped his authority on around lap 10.
McCoy's outrageous late-braking slides saw him slowly picking up ground on Checa, though the race was cut short by a quarter distance with the onset of rain.
The 16 points McCoy gained at the Sepang circuit near Kuala Lumpur, on top of the 25 from his surprise victory in the season-opening South African Grand Prix two weeks earlier, gives him 41 - one more than fellow Yamaha rider Carlos Checa of Spain, who has been second in both races so far.
American Kenny Roberts won the rain-shortened Malaysian race on a Suzuki and is third in the championship on 35 points. Roberts charged from 11th place on the opening lap at Sepang to take the lead on the ninth lap.
"I made it hard on myself at the start, but that makes it a little more enjoyable," Roberts said. "That was one of the most difficult races I've won."
Reigning world champion Alex Criville, of Spain, said, "This whole weekend is one I'd rather forget. Now I will concentrate on getting better and move on to the next race."
McCoy, 27 and from Camden on the outskirts of Sydney, said, "It feels good to be leading the championship and I'm happy because I've never done that before. "But I don't really want to think about the championship - there are 14 races to go and it's a long way, so I'm not getting carried away. I'm happy to aim for a top five finish. "In the race I made a good start but it always takes few laps for my16.5-inch Michelin rear tyre (smaller than that of his rivals) to really start working.
"Max Biaggi came past me and I followed him, but then I felt he was holding me up because I carry more speed into the corners, so I got past him and put my head down to try to catch Checa and Roberts. "Earlier in the race (Italian) Valentino Rossi shot past me under brakes and then ran wide and then he crashed in front of me, just like in South Africa. That's two races in a row, so I hope that stops pretty soon. "Then the rain came, so who knows (what might have happened). It is always dangerous to race in the rain, so the race was stopped early. No problem, that's the way it is.
"I'll just go to Suzuka next week and try for the top five again. I don't understand why some people think Welkom (the South African circuit where McCoy won the opening round) was a fluke."

Australian Anthony West, 18, from Queensland's Gold Coast, finished sixth in the 250cc Grand Prix in Malaysia despite a misfiring engine in his Honda and after a heavy fall in qualifying.
West said the pain from that fall was "not too bad" during the race. "It was just unfortunate that the engine had a bit of trouble," West said. "It started surging and 'missing' on full throttle." West is fifth (on 21 points) in the 250cc championship, which is being led by Japan's Shinya Nakano - who has won both races so far.
Frenchman Olivier Jacque was second in the 250cc race in Malaysia, with Japan's Daijiro Katoh third on a Honda.
Italian Roberto Locatelli, riding an Aprilia, won the 125cc race with Japan's Youichi Ui second on a Derbi and another Italian, Mirko Giansanti, third on a Honda..
Reigning 125cc champion Emilio Alzamora, of Spain, finished fourth on a Honda.
500 results: 1 - KENNY ROBERTS (TELEFÓNICA MOVISTAR SUZUKI) 31:58, 156.191km/h, 2 - C Checa (Yamaha) plus 1.870 seconds, 3 - G McCoy (Yamaha) + 7.190, 4 - M Biaggi (Yamaha) + 13.202, 5 - NOBUATSU AOKI (TELEFÓNICA MOVISTAR SUZUKI) + 22.214, 6 - T Okada (Honda) + 22.858, 7 - S Gibernau (Honda) + 25.081, 8 - A Barros (Honda) + 25.229, 9 - R Laconi (Yamaha) + 25.858, 10 - J McWilliams (Aprilia) + 35.874
WORLD CHAMPIONSHIP POSITIONS After two of 16 rounds: 1 - G McCoy (Aus) 41, 2 - C Checa (Spa) 40, 3 - K ROBERTS, SUZUKI (USA) 35, 4 - A Barros (Braz) 21, 5 - N AOKI SUZUKI (Jap) 19, 6 - L Capirossi, Honda (It) 16, 7 - R Laconi, Yamaha (Fra) 14, 8 - M Biaggi (It) 13, 9 - A Criville, Honda (Spa) 11. 10 - J vdGoorbergh, Honda (NL) 11.
More info: http://www.dorna.com
Geoffrey Harris & others
Superbikes - Kyalami, South Africa


Overview: things have hotted up considerably in this class with Honda proving it has a competitive bike in the VTR, and Aprilia getting up to speed with Troy Corser taking out the superpole contest. Honda's Colin Edwards is talking confidently of being the main rival for the Ducati/Fogarty combo that has 'owned' the championship in recent years, something he backed up with a win in race one.
Fogarty was carrying a shoulder injury for the meeting, which probably took the edge of his performance. Meanwhile Kiwi Simon Crafar stood in for countryman Aaron Slight on the second Castrol Honda. Slight says he'll be back in the saddle for second round in Australia (Phillip Island) this easter.
Race one was a three-way contest between Edwards, Noriyuku Haga (Yamaha) and Carl Fogarty. Race two - the pick of the two heats - was taken out by an incredibly determined Haga ahead of Edwards and Pier Francesco Chili on a Suzuki. Fogarty crashed. More info: www.worldsbk.com
First race result: 1 Colin Edwards, USA (Castrol Honda) 43m 21.141s, 2 Noriyuki Haga, Japan (Yamaha) 43m 21.274s, 3 Carl Fogarty, GB (Ducati) 43m 21.366s, 4 Troy Corser, Australia (Aprilia) 43m 28.988s, 5 Pier-Francesco Chili, Italy (Suzuki) 43m 31.153s, 6 Gregorio Lavilla, Spain (Kawasaki) 43m 52.335s, 7 Haruchika Aoki, Japan (Ducati) 43m 57.331s, 8 Katsuaki Fujiwara, Japan (Suzuki) 44m 01.063s, 9 Ben Bostrom, USA (Ducati) 44m 04.572s, 10 Juan Borja, Spain (Ducati) 44m 05.539s.
Second race result: 1 Noriyuki Haga, Japan (Yamaha) 43m 22.756s, 2 Colin Edwards, USA (Castrol Honda) 43m 29.238s, 3 Pier-Francesco Chili, Italy (Suzuki) 43m 34.723s, 4 Troy Corser, Australia (Aprilia) 43m 39.730s, 5 Haruchika Aoki, Japan (Ducati) 43m 52.988s, 6 Gregorio Lavilla, Spain (Kawasaki) 43m 56,352s, 7 Juan Borja, Spain (Ducati) 43m 59.897s, 8 Ben Bostrom, USA (Ducati) 44m 00.776s, 9 Katsuaki Fujiwara, Japan (Suzuki) 44m 01.062s, 10 Alessandro Antonello, Italy (Aprilia) 44m 13.740s.
Championship points after one of 13 rounds: 1 Edwards and Haga 45, 3 Chili 27, 4 Corser 26, 5 Aoki and Lavilla 20, 7 Fogarty 16, 8 Borja, Fujiwara and Bostrom 15. Next round: April 23 - Phillip Island, Australia.

Australian news


Performance Streetbike magazine has a new editor: Mick Matheson, former editor of Two Wheels. His first issue (with a Yamaha R1 on the cover) points to some changes in the mag and you can find it on news-stands.

Two new web sites worth mentioning this issue: Cagiva Australia and Aprilia. Cagiva's effort is from the Paul Feeney Group (which also covers MV Agusta) and has been available in beta version for some weeks. Now you can play with the real thing at www.cagiva.com.au. You can use it to subscribe to the company's free newsletter.
Meanwhile www.aprilia.com.au reveals the local range and allows the user to book a test ride on the web.

Australian Motorcycle Trader also has a new editor, Greg Leech, a former staffer on Australian Motorcycle News and editor of The Footy Show Magazine. Greg is breathing new life into the look of the zine though he's keeping up the buyings used and maintenance advice side of the editorial.

Radio 2RRR in Sydney (88.5mHz) hosts the Ride Rage bike show on Monday afternoons, 2.00-4.00pm. Rob Milton is the mouthpiece and puts together a good mix of guests and music. Have a listen.

Annie at Snow View Holiday units in Victoria's Mt Beauty has told us that she has a special deal for motorcyclists that includes good accommodation for $30 per head a night. A Triumph Thunderbird owner, she has plenty of advice to offer on the excellent riding in the area and can be reached at e-mail snowview@mtbeauty.albury.net.au.

Aussie subscriber Richart Roberts was kind enough to bring us this item from the Top Gear UK site: "LONDON, 30 March 00: Mr Prescott may be left crying into his pie if an appeal to the Privy Council over speed cameras is unsuccessful.
"A Scottish court has ruled that it is a breach of human rights if a motorist is forced to tell the police who was driving when an offence is caught on camera. The problem for the Government is that the European Convention on Human Rights allows people to remain silent and refuse to incriminate themselves - the police currently insist a driver declares who was at the wheel of an offending vehicle so that fines and licence points can be administered.
"An appeal against the Scottish ruling is being sent to the Privy Council, which, if rejected, may stop the grey fruit machines in their tracks. A re-think of the new road safety strategy would then be needed, as the current plan revolves around a marked increase in the use of Gatso cameras.
"The Government is said to be following the case very closely, with a possible view to amending the law to take account of the pesky tight-lipped Scots."

We've had a few enquiries about the SR500 club in recent times, after an off-the-cuff mention in an unrelated story. Contact paunew@tenex.com.au for info.

Fancy some world travel on a motorcycle? Try this: www.HorizonsUnlimited.com

If guided tours are more your thing, Bike Escape (local) and Ferris Wheels (international) are worth a quick search.
Editorial


A quick thanks to those of you who responded to our second reader survey. We'll publish the results next week after Ms M junior has finished crunching the numbers. Just as a matter of interest, we received over 100 replies in the first two hours after the survey was sent, and ended up with a phenomenal total - such is the power of internet and, more accurately, e-mail.
Some legends worth mentioning are young Mr Barton, Mr Isbister and Guzziman, who are passing on their copy of the mag to lists of 95, 90 and 60 respestively. Folks, I thank you. There are others and I apologise if I missed you. One of them suggests starting a reader club and organising rides. Apparently most of our readers are in NSW and Queensland, and the thought of a border run in has a lot appeal...
Because we had the rare coincidence of world GP and superbike rounds last weekend, our news section is mostly racing. If you're new to the list, be patient, as you'll find things very different next week.
Guy Allen
[Back Issues | Motorcycle Books]
[Roadtests | Travels] [Calendars | Garage sale]
Article by Guy Allen
home | sitemap | motorcycle books
Copyright © 1997-2023 dropbears