Motorcycle News

issue 41, May 4 2000
Welcome to issue 41 - here is the news...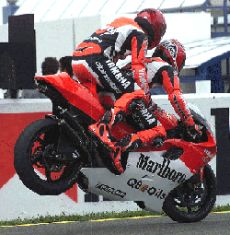 In what is perhaps the most bizarre riding partnership in recorded history, we have here former high-profile GP racer Randy Mamola aviating the boss of the Australian airline Qantas, James Strong, during the recent Jerez GP meeting. The bike is a 1999-spec 500 racer converted to two-seater duties by the Marlboro Yamaha team. (Pic attached.)
Mr Strong (55), a bike fan who has also had the privilege of a ride in the McLaren team's two-seat Formula One car at the 1999 Qantas Australian Formula One Grand Prix, was equally struck by the force of the brakes on the 190bhp Yamaha: "The braking is very severe," he enthused after the ride. "The whole thing was a real thrill. It was a great opportunity and
this is a great idea. It's very different from the Formula One car. You are more involved on the back of the bike and it was probably more of a thrill for me."

Jerez GP: While his main rivals streaked ahead, Australia's Garry McCoy retained third place in the 500cc motorcycle world championship despite tumbling out of a dramatic, rain-interrupted Spanish Grand Prix. And fellow Aussie Anthony West had the best race of his 250cc GP career, charging from 15th on the grid at the Jerez circuit to finish fifth - although unluckily the teenager dropped a place in the point standings.
Spanish fans threw cans and bottles at American Kenny Roberts, who took the 500cc honours ahead of their countryman Carlos Checa, who has been second in three of the four rounds this season. Suzuki ace Roberts stretched his championship lead over Yamaha's Checa to nine points, 80-71, while Red Bull Yamaha rider McCoy - winner of the season-opener in South African and second in Malaysia - is still third on 48.
Roberts ended six years of Honda domination of the 500cc race at Jerez since another American, Kevin Schwantz, also on a Suzuki, won there in 1993 and proceeded to take the world title. Son of a triple world champion, Roberts also broke Schwantz's seven-year-old Jerez lap record.
Italy's rising star Valentino Rossi, already a 250cc and 125cc world champion and still only 21, scored his first 500cc podium with third place at Jerez.
Spain's reigning 500cc world champion Alex Criville won the second leg of the race after the stoppage in the rain and finished fourth overall but is still only equal sixth in the points on 34.
Italian star Max Biaggi had qualified on pole position but crashed on the warm-up lap and his Yamaha burst into flames, then his spare machine developed clutch problems soon after the start and he was forced to retire.
McCoy, 28 and from Camden near Sydney, was devastated at missing out on vital points after racing shoulder-to-shoulder with Criville, who had won at Jerez the past three years. He had charged from 12th on the grid into sixth place just behind the Spaniard's Honda and was preparing for a late charge when the rain halted proceedings after 16 laps. Full of confidence for the 10-lap second leg, McCoy's hopes were dashed after just one lap when he ran wide on to the slippery white line markings, claiming he was baulked by Brazilian Alex Barros on a Honda. The Australian fell but escaped with only bruised fingers.
"On the exit to turn one I got baulked and had nowhere to go except up on the outside of Barros and on to the white paint and that was it - shake, shake and off I went," McCoy said. "It is terribly disappointing because I just hate not scoring points. Roberts and Checa have now got a gap in the championship.
"It is hard to say because I wasn't out there for all the second race, but I felt so good on the bike that I could have got a really good result - but it didn't happen.
"I felt comfortable running with Criville and I reckon I could have moved up a few places if the race had gone the full distance and maybe ended up on the podium."
Red Bull team manager Peter Clifford said: "Garry again showed that he is tremendously competitive, but really ran out of luck. "Still, he is third in the world championship and we're only a quarter of the way through the races and everyone will have their turn at a bad day.
"Garry is in good shape for the next race, the French GP (on May 14), after a strong test at Le Mans a few days ago."
Gold Coast 18-year-old West rode impressively in the 250cc race at Jerez to finish within 30 seconds of German Ralf Waldmann, who notched his first victory since the 1997 Australian Motorcycle Grand Prix at Victoria's Phillip Island. Fifth place equalled West's previous best finish on his factory Honda at the start of the season in South Africa, although he was almost 48 seconds behind the winner there.
"I got a great start and just went for it at the first few tight corners," West said. "I ran really tight lines to get under as many guys as I could and it worked. "That's the first time I've run with some of the fast guys lap after lap, so I'm happy about that. When you're racing with them you see how consistent they are and they don't make mistakes. That's what I have to do."
Waldmann, riding an Aprilia bike, took the chequered flag ahead of the Hondas of Japan's Daijiro Katoh and Tohru Ukawa, but Katoh grabbed the championship lead from another Japanese rider, Shinya Nakano, who fell from his Yamaha while leading on the second lap but remounted to finish 15th.
Frenchman Olivier Jacque on a Yamaha won the battle with West for fourth place and is now third in the standings on 59 points behind Nakano on 67, while Katoh has 83. Waldmann has jumped to fifth on 47 points, five points behind West's Japanese teammate Ukawa and five ahead of the Australian - who is now sixth.
Spaniard Emilio Alzamora won the 125cc race on a Honda, beating Italian Mirko Giansanti on a similar machine and another Italian, Roberto Locatelli, on an Aprilia. Alzamora, the reigning 125cc world champion although he had not won a GP since 1996, now leads this season with 65 points to Giansanti's 56 and Locatelli's 54.
GP 500cc results: 1 Kenny ROBERTS, 2 Carlos CHECA, 3 Valentino ROSSI, 4 Alex CRIVILLÉ, 5 Alex BARROS, 6 Loris CAPIROSSI, 7 Nobuatsu AOKI, 8 Regis LACONI, 9 Jurgen vd GOORBERGH, 10 Tadayuki OKADA.
500cc standings: 1. ROBERTS, JR., Kenny 80; 2 CHECA, Carlos 71; 3 MCCOY, Garry 48; 4 BARROS, Alex 41; 5 AOKI, Nobuatsu 41; 6 CRIVILLÉ, Alex 34; 7 ABE, Norick 34; 8 OKADA, Tadayuki 32; 9 CAPIROSSI, Loris 30; 10 LACONI, Regis 24.
See: <http://www.dorna.com/index.html>

Sugo superbikes: A crash involving stand-in Ducati man, Australian Troy Bayliss, at the first corner of race one initiated a series of events which saw five riders crash out. Bayliss's team mate Ben Bostrom was among the fallers, who included Vittoriano Guareschi, Katsuaki Fujiwara and Igor Antonelli.
A mid-race charge from Hitoyasu Izutsu saw him overhaul initial leader Noriyuki Haga after 8 laps and take his first win for seven years, either in National or International competition.
A three way fight for second and third place went the way of Haga (pictured), with Pierfrancesco Chili overcoming local Suzuki man Akira Ryo for the final podium slot.
Kawasaki is the fifth different winner of the first five races this season thanks to Izutsu's all Japan machine. A second place finish, compared to Colin Edwards' fifth, also extends Noriyuki Haga's championship lead.
Race 2: A repeat performance from Kawasaki Japan's wild card entry Hitoyasu Izutsu gave him his second win of the
day at Sugo.
A strong ride from his countryman Wataru Yoshikawa on the factory Yamaha gave him a happy to end to what had been a difficult day, with World Superbike regular Colin Edwards finishing in a strong third spot after a hard and consistent performance.
Early leader Noriyuki Haga finally succumbed to tyre problems to finish fourth but he still leads the World Championship by ten points from Colin Edwards. Troy Corser's fifth place maintains his third place in the table, when an electrical problem drained the battery on Pierfrancesco Chili's Suzuki, robbing him of valuable points.
A disastrous weekend for the Ducati factory meant Ben Bostrom scored only three points in race two, and these were the only ones scored by any of the team's Superbike or Supersport riders.
Anthony Gobert, a race winner last weekend in Australia, underwent a precautionary brain scan after an accident on the third lap of the race and is believed to be suffering arm and shoulder injuries.
Supersport: Jorg Teuchert and Christian Kellner gave the Alpha Technik Yamaha team serious cause for celebration after taking a 1-2 race finish in the 25 lap Supersport event.
Despite Suzuki's Stephane Chambon beating Yamaha's James Whitham to the final podium place, the Belgarda rider still hold the championship lead after two of the scheduled 11 rounds.
Iain Macpherson was the first Kawasaki home, holding off replacement rider Australian Kevin Curtain. Fellow Australian Andrew Pitt finished ninth after suffering a nasty accident the previous day in qualifying.
Overall superbike standings: 1. Haga 104, 2. Edwards 94, 3. Corser 69, 4. Chili 59, 5. Lavilla 54, 6. Izutsu 50, 7. Gobert, 8. Fogarty 36, 9. Yoshikawa, 10. Yanagawa.
Race 1 results: 1) 64 IZUTSU 2) 41 HAGA 3) 7 CHILI 4) 58 RYO 5) 2 EDWARDS 6) 59 KITAGAWA 7) 61 TAMADA 8) 57 YOSHIKAWA 9) 3 CORSER 10) 6 LAVILLA.
Race 2: 1) 64 IZUTSU 2) 57 YOSHIKAWA 3) 2 EDWARDS 4) 41 HAGA 5) 3 CORSER 6) 4 YANAGAWA 7) 62 SERIZAWA 8) 59 KITAGAWA 9) 58 RYO 10) 6 LAVILLA.
See <http://www.worldsbk.com/index.html>

Multi-champ winning superbike rider Carl Fogarty is a bit miffed at suggestions that he might consider retiring after breaking his arm at the Phillip Island supers round. "I will be back on my bike very soon. Now I have to concentrate on recovering and to returning to fitness and ready to race. There is nothing to make me consider retirement from racing. I will be at Donington Park as a spectator to be very close to my fans and my team," he said.

Boxer bikes, which has developed a reputation for building odd-ball exotica over the years, is to put its Voxan-powered road bike into limited production. We're told only 100 versions of the V-twin will be made, with a price tag in excess of $30,000.

Just a quick note to remind you lot that we're happy to publicise new motorcycle-related websites, be they commercial, club or private. Just drop us a line at allmoto@netspace.net.au

The Ducati owners club of Victoria reminds us that its draw for the 996 raffle prize will take place on May 13. There are a few tickets left, and you can grab one by calling 1800 996 996.
Editorial


We're almost all race content this week, thanks to the coincidence of a GP and superbike round on the same weekend. There's neither next weekend, and another double-up the following. Don't say you weren't warned...
Guy Allen
[Back Issues | Motorcycle Books]
[Roadtests | Travels] [Calendars | Garage sale]
Article by Guy Allen
home | sitemap | motorcycle books
Copyright © 1997-2023 dropbears