J Class Submarines in Australia


From David Patrick of Sydney, 19th July 1998
<patrickd@spin.net.au>

My grandfather William John Mills served on the J Class from 1919 to their subsequent withdrawal from service in the mid to late 1920's. Without a doubt [Harry Coward and W.J. Mills] would have known each other. I have quite a few crew shots from the J class as well as a great deal of research and photos. A few interesting facts that may interest you ...

1. When the J class were removed from service they were all scuttled in and around Port Phillip Bay Victoria. J7 is above the waterline and can be walked on at low tide. It was placed at Sandringham as a breakwater and still serves in this role. J3 was also placed in shallow water as a breakwater on the northern tip of Swan Island. The others of the class (J1, J2, J4, J5 ) were all sunk in approx 30 to 40 metres of water about 2 kilometers off the mouth of Port Phillip Bay and are a popular scuba dive site. I walked on the decks of J3 and J7 2 years ago and it was quite a nostalgic feeling. My trip was documented by a scuba journalist and ended up in a dive magazine.

2. HMAS Platypus was the mother ship for the J class submarines. It went on to serve in the 2nd World War long after the J Class were scuttled. It withstood the Japanese air raids on Darwin and went out of service in the 1950's. The Submarine base in Sydney is named in its honour.

3. All the submariners' service records that served on the J's in Australia only show that they served on board Platypus, as this was the mother ship. The easiest way to determine which J's they were attached to is to go through the group photos.

4. The old J boat base was located at Geelong and is an old historic mansion, Osbourne House. It is now a submarine museum.

5. Two J boat propellors are mounted in the park at Queenscliff.

6. J1 was easily identifiable from the rest by it's winged lookout post on the conning tower. It was also the only submarine in history to be fitted with a system to drop depth charges, and carried out an attack in this manner on a U boat.

Peter Cavenagh is mentioned in the listings of submarine personnel in
the book 'Australian Submarines, a History' by Michael W.D. Whyte. Peter Cavenagh was transferred from the J Class to HMAS Brisbane on 18/3/1925 which co-incides with the J's starting to phase out of service. Once again, he would appear in the crew shots (I think I have a complete set for all the boats). My grandfather was originally in J4 yet was transferred to the last J that remained in service. J7. He was transferred to HMAS Margurite on 26/06/25.

There is a copy of 'Watchdogs of the Deep' by torpedoman T.M. Jones at the Mitchell Library in Sydney, published in Australia in 1935 by Angus & Robertson. Tom (Taff) Jones served on J's during the great war and was subsequently transferred to Australia with the boats. He describes the war exploits, the trip to Australia and life at Osbourne House, Geelong, during his Australian sub service. An excellent read...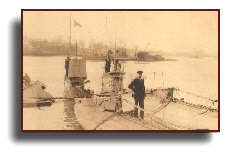 ---

Paul Padley at ppadley@raaf.defence.gov.au is another contact very interested in the subject of Australian WW1 Submarines, and is interested in any information on Peter Cavenagh, mentioned above.
---

John Tait at John.Tait@disney.com wrote, in June 1999,

.....
All of what I know is oral family history from my mother and grandmother.

My Melbourne born maternal grandfather was named Robert Aubrey Orton. His
father, an engineer, had sent Bob back to England to attend the Royal Naval Academy, following in his own footsteps. I think Bob had graduated c.1912. I am told he spent the entire Great War as an engineer on a Royal Navy sub. I am told that for most of the time he served on the Dover Patrol [with] a notable excursion in the sub sweep up the Dardenelles, prior to the landings at Gallipoli.

Unfortunately, I have no type or number information on the boat. Here is where the story gets a little confusing. I found in his desk several years ago a small brass plate, with the engraving " H.M. Torpedo Boat 113, R.Orton" I have always thought that Torpedo boat related to small destroyers, not submarines.

I am basically on the trail of as much history that I can find. I was hoping that you might be able to cast some any light on the Torpedo Boat nomenclature question.

But, more specifically, could you direct me to any information sources: internet, websites, individuals with postal addresses who might be able to assist in acquiring history. I am intensely curious as to how you were able to piece your own grandfathers story together.

Any help would be most gratefully received.

Cheers,
John Tait

---


Jan Chaplin at jayce@connexus.net.au writes (3/6/00)

Looking for information about my maternal grandfather Joseph Edwin Ottey. I have only very sketchy information from my mother and grandmother (now deceased).

My grandfather studied at the Royal Dartmouth College and became a submariner. He is said to have served on the "AE2" and possibly on the "AE1" as well. At some time after WW1 it is believed he ran Osbourne House at Geelong, Victoria, but we don't know dates. My mother remembers at the age of about 2 (she is 83 today, June 3) being taken with her mother and brother onto a submarine in either Sydney or Melbourne by her father - "a terrifying experience".

I do know one or two other little bits of information, but basically the above is about all of relevancy.

Regards,
Jan Chaplin
---

Letter re: WWI RN Submariner

---
Home | Sitemap | The Photos | Links | Contact
Advertisment
home | sitemap | military books
Copyright © 1997-2023 dropbears