| | Vintage Motorcycle Magazines | |
| --- | --- | --- |
A Few Comments
from satisfied customers
---


Dec 3rd 2009
Just to let you know I received it this morning.
Thank you
Julie
plisner.haines@xxxxxxx.com
(in reply to "Thanks, Julie. I posted the magazine today, Nov 25th.")


---

June 30th 2009

I have been looking for this test for a long time so very happy to get it from you.
Thanks for your quick replies, it has been a pleasure doing business with you,
Regards,
Lester.
ljhfarmremove<AT>ruralinzone.net


---

2009/6/2
subject: THE CLASSIC MOTORCYCLE, JANUARY 2000
Email: meridenrou AT gmail.com
message: HI, IM WRITING FROM URUGUAY, SOUTH AMERICA, AND IM
LOOKING FOR THIS MAGAZINE. IVE SEEN IT IN YOUR LIST, AND I D LIKE TO NOW THE COST OF IT.
THANKS.
...........
Your magazine was posted today, David. Can you let me know when it arrives, please.
...........
I'VE GOT THE MAGAZINE, IT'S EXCELLENT!!!!! THANK YOU.


---

Re articles scanned May 09

I donít think I ever said a proper thankyou for the motorcycle magazine articles you scanned and made available to us towards the end of May.

My husband is absolutely delighted with them Ė and very impressed with your service. He has here the personal scrapbook of Geoff Dodkin, the former Velocette tuner, and is trying to organise and complete it. The articles enabled him to fill some of the gaps.

Regards.

Margaret


---

Re magazines sent Dec 08
samuelsnail AT hotmail.com
Thanks, received the magazine and it had some great stuff in it. Just what I wanted.
Regards, Phil.


---

(In reference to some antique motorcycle magazines sent October 2008)

Thanks very much for all your efforts and taking time to look at the preceding issues which shows in some cases that the event was run but the magazine did not report on it. Others perhaps cast doubt on the event being held over the Bank Holiday weekend in the early years. With both sets you have sent me the race reports and photographs are excellent.

Leave me to research a bit more here and I will not hesitate to contact you if I think that your prompt service will be of assistance to me in the future.

Best Regards
Dennis Boatwright
Membership Secretary
Bentley Drivers Club Ltd
Oxfordshire
---
(The comments below relate to the previous owner of the business, John Baker -
we intend to maintain John's high standard of service.)
John Baker is located in Peterborough, England and specializes in magazines specific to motorcycles. He can supply magazines from virtually any time period or
locate articles about anything related to motorcycles. I have used him over a dozen times and found his merchandise to be "as advertised" and of superior quality.
Clint Allen
"I've received the magazines and I am extremely pleased with them. Why can't
today's magazines have the character these have? Thanks for the trip down

memory lane".
"Many thanks for a great service. The magazines arrived quickly and in good

condition. I am recommending you to all of my friends".
"Thank you for the birthday magazine. My husband was absolutely thrilled with
it and has enjoyed reading about what was going on in the biking world at the

time he was born".
"I am so impressed with the fact that you came back to me as indeed you said
you would. I know it took a couple of months to find it but it was well worth

the wait!".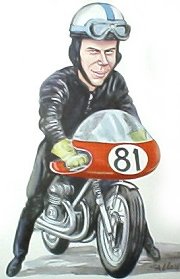 Catalog | Bookstore | Sitemap
Gallery | Contacts
Copyright © 1997-2023 dropbears