Synchronicity – Jung was not so sure it was Coincidence
Warriors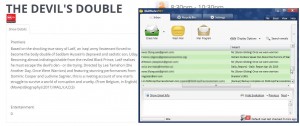 Switched on the machine after a short break, movie time on TV, had a quick look and one showed promise, noted that the director was one I knew well from earlier work, in particular Once Were Warriors. Reminisced on the discussion I'd had on this film with a lovely young woman which resulted in a brief liaison in Massachusetts before she went on to New Zealand to work with some unknown director.
Still dreaming, I began to check my email.
One phrase jumped off the screen.
An Australian in Kiev
After receiving an "instruction manual" from my niece, I decided to share a moment of good and bad that I experienced a couple of days ago.
Travelling on the Kiev Metro system is similar to being shipped as sardines on a container ship in the Arctic Ocean…just setting the scene.
So, having arrived close to the city I had to change stations to get to another district. On alighting from the train I was confronted by stern looking rail guards and police tape. "Nyet….eta bomba!!" This was translated as "no entry..it is a bomb!!"
A young man was also looking haplessly at this situation and I asked if he could speak English. "Only a little"..was the reply. Through him I discovered we had to take the slow boat to China route to get to the transfer station we required, which added 30 minutes to the trip. When I found this out I let out a few profanities… in Australian of course.
He then said, "Please dont say such things near the police… it may get you in trouble!" Reminded me of Queensland in the 80's under Jo Bjelke Petersen.
Now the trip got interesting as my new friend and I were travelling to the same station. His name was Oliver and he had just arrived from Donetsk, where as most of you would know there is a war going on. He told me many interesting and some very sad things he had seen and heard of and I learned very much about the mood of the people in the east. What was good news was that most of the young people there wanted to be Ukrainian and not Russian.
The most interesting outcome of this little meeting was when I asked Oliver what he does for work. He was a sales manager in the food industry!! Only the day before this meeting I was asking a employment agency to begin looking for a sales manager! I have received Oliver's CV and it reads great. We will meet again for lunch on Friday where I will properly interview him.
Who knows what chance meetings due to a bomb scare can bring.
Postscript
He is now my sales manager and though sales are slow due to the fact we are a totally unknown product… and there is still a war going on in the east…. Oliver is proving to be a very good asset to (the business).
NB. Names have been changed.
Oh, wait…
The screenshot shows two items I'd bought from the same vendor; Superblog in December 2014, Web 2.0 Directory in Feb 2015.
I bought the directory listing WordPress plugin from the Author Dannci. I'd researched for several hours, and decided this was the one I wanted to try for the task at hand.
The following day I was doing some housekeeping in my notes for a site I was working on and in the Licences section noted that I'd added the Dannci licence to the wrong site.
Oh, wait, different licence, same author.
Dannci has 19 themes and plugins for sale at Envato. Envato has 6,924,023 items for sale. There are at least 20 other plugins &/or themes I could have chosen which do similar tasks, from quite a number of different sources.
I work on dozens of different sites and projects. I had not bought these items for projects for the same sites nor for the same organisation, but many of the same people work in both organisations.
What are the odds?
This pair of posts appeared on my FB feed together. AFIK the two do not know each other, though they probably know of each other.  Jack Miller had just won the Moto 3 race at Philip Island.
Just coincidence really, this next one. But it was quite meaningful to the the two correspondents as the two FB posts were talking about the same thing.  A couple of chats came up which I replied to. When I'd finished, I glance back at the active FB page and what should I see – the exact post that I'd just been talking about. Just coincidence, really, but it came as a bit of a shock to see the same thing all over the screen. It was a very very successful post, too.
Wolves.