Most of the motorcyclists here are better known for other exploits
Sir Francis Chichester

A renowned yachtsman, Chichester also made a succession of history-making flights in the early years of aviation. Prior to this he was a salesman, and for some while rode a motorcycle in New Zealand.

1929: Solo flight from London to Sydney. 14,561 miles (23,297 km) in 182.5 flying hours. Total time: 41 days

1931: Solo first across the Tasman Sea from Auckland via Norfolk and Lord Howe Islands to Jervis Bay, Australia.

"To a man of imagination, a map is a window to adventure."
"Life is an adventure or nothing at all."
Sir Francis Chichester.

Sailing World Hall of Fame: Sir Francis Chichester
Sir Francis Chichester (1902-1972)
Robert Hughes
Historian, Art Critic, and Motorcyclist.
Owned a gold CB750K2 which he rode sporting shoulder length hair and paisley trousers.

---
Kim Bonython
Australian art dealer responsible for assembling the Mertz collection in the 1960s, still riding his MV600 at the age of eighty.

T.E. Lawrence

Best known for his extraordinary feats in the Arabian desert during WW1, Lawrence was an ardent motorcyclist. His eighth Brough Superior was awaiting delivery when he was killed riding its predecessor, George VII.
Brough Superior
Roald Dahl

A respected author of children's books and perhaps best known for the stories in the TV series Tales of the Unexpected, Dahl survived, against impossible odds, a series of hair-raising battles as a Hurricane pilot during WW2. He mentions his motorcycle experiences in either Boy or Going Solo.
Books
A correspondent writes of
Henry Williamson

Williamson wrote many books on growing up in England during the Edwardian times and through the 20s and 30s. In addition he wrote many animal books which remain popular. He was a keen motorcyclist in his younger years and the bikes get quite a write up in his books.

He wrote a series of books called A Chronicle of Ancient Sunlight. Certainly the bikes are mentioned in How Dear is Life and the other ones around the period of the first war and after. I cannot remember now what the bikes were. I know he had a Norton and some obscure two stroke during the first war. In addition I believe he was a friend or acquaintance of Lawrence.

---

Andy Brown confirms much of this at henrywilliamson.org
George Formby

A popular music hall star and film star in England in the 1940s and 50s, George Formby was famous for singing humorous songs while playing the ukulele. One of his best films is No Limits and is shown every year in the Isle of Man at TT week. George rides a disguised AJS 7R in the film and it is said to be most amusing.

In real life he owned a Norton International 500cc OHC single sports model, one of the most desirable machines of the day.
Sir Ralph Richardson

Sir Ralph (pronounced Rafe) Richardson, was a famous English actor. He rode a Norton Dominator and in his later years changed to a BMW.
Steve McQueen

John writes of the well known American actor:
"The star of Bullet, The Great Escape and many other action/adventure movies, Steve McQueen was also a keen motorcyclist. I understand he had a collection of vintage American motorcycles and I recall seeing a photo of him with Ali McGraw on an Indian. I believe he rode in the International Six Days Trial back in the 1960s and I think he did some of the riding in The Great Escape."

Richard Brandt writes of Steve McQueen:
"Yes, he did compete in the ISDT. On a 650 Triumph. Although he didn't complete the six days, his participation in the first American ISDT effort helped create enthusiasm for that sport in this country. McQueen was a regular in the hugely popular desert races held in Southern California, again favoring the 650 Triumph, as did most of the other serious desert racers of the day. "
(Richard, your return address bounced, hence no reply from me. Thanks for the info.)

Steve McQueen was an avid motorcycle collector, in particular of vintage Indians, and was noted for performing many of his own stunts in movies such as The Great Escape, Bullitt and Le Mans. He apparently amassed several hundred motorcycles during his life, which were mostly sold at an auction in Las Vegas in 1984, four years after his death from lung cancer. McQueen regularly advertised Camel cigarettes.

---
subject: famous motorcyclists
Email: vfr750@****.net.au
message: I'm surprised that none of your correspondents mentioned that Steve McQueen, as well as being a keen rider and starring with a motorcycle in 'The Great Escape' also features heavily in Bruce Brown's iconic motorcycle movie, 'On Any Sunday.

---
January 2006
subject: Steve Mcqueen
Email: pbrockl@***.com.au
message: Jeff Smith, the British motocross champion actually jumped the barbed wire as Mc was considered too valuable
................. According to another site, Bud Ekins made that jump on a 1962 Triumph:
http://dirtbike.off-road.com/dirtbike/article/articleDetail.jsp?id=331456

subject: Steve McQueen
Email: nmike60 AT hot****.com
message: It wasn't Jeff Smith who did the jump in The Great Escape, it was Tim Gibbes
subject: McQueen and 'The Great Escape'
Email: yeti at rof.net
message: Enjoyed your page very much, but hopefully to clear up who actually jumped the barbed wire (standing in for S.McQueen) it was (without any question) the noted late 50's California top-of-the-heap desert racer Mr. Bud Ekins, r.i.p.
John continues: Just after the second world war BSA presented [Field Marshal] Montgomerywith a new Sunbeam S7 - the OHC in-line twin shaft drive 500cc. I don't know if he ever rode it or what became of it.

theharleynut at gmail.com writs (October 2010)
somewhere in your pages you list about Montgomery's Sunbeam S7 and a certain John asks himself what has become of this motorcycle the field marchall got from BSA. Well, it is now in the Louwman Museum in The Hague.


Talking of Sunbeam S7s, Captain Eric Carlsson who was briefly famous in the 1950s for sticking to his sinking ship 'The Flying Enterprise' until it sank under him was said to have had his own Sunbeam S7 aboard when it went down. Not the ideal motorcycle for riding up a ships gang plank!

.................................

On your famous motorcyclists page May I please make a comment on the accuracy of one person. Captain Eric Carlsson was actually called Captain Kurt Carlsen and his ship sank in Jan 1952 after almost 2 weeks trying to save her. I personally discovered the whereabouts of the ship in 2001 and have extensively photographed her and filmed her for a documentary for National Geographic. I am very close to finishing the definitive pages on the Flying Enterprise of which you may wish to add a link to for those wishing to follow up your work. Now I am aware there is a sunbeam 7 on the wreck our next investigation could well look for and photograph any such remains. my web link is www.deepimage.co.uk

leigh at deepimage.co.uk
George Orwell

George Orwell was the pen name of Eric Blair - 1903-1950. He was the author of many famous books: The Road to Wigan Pier, Down and Out in London and Paris, and his two anti-totalitarian books for which he is best remembered - Animal Farm and 1984. While working on 1984, although suffering from tuberculosis as a result of service in the Spanish Civil War, he regularly used a Royal Enfield 350.
Glenn Curtiss
Curtiss, Glenn Hammond (1878-1930), American aviator and inventor.
In 1907 (some sources say 1904) he rode a V8 powered motorcycle of his own design to the previously unheard of speed of 136 mph on a Florida beach, earning himself the title of "The fastest man alive". His involvement in aviation began when he flew a Curtiss powered Baldwin airship solo without any serious prior instruction. In 1907 he partnered with Alexander Grahame Bell to form the Aerial Experiment Association, and made his first powered flight on his 30th birthday, 21st May 1908, in
White Wing.
That same year he won a prize for being the first for being first to fly in a straight line for more than a kilometer. In 1909 he won the international aviation meet at Reims, France, flying an aeroplane he had designed himself. Curtiss designed and built a number of the earliest seaplanes and flying boats. In 1919 his NC-4 became the first aeroplane to cross the Atlantic Ocean.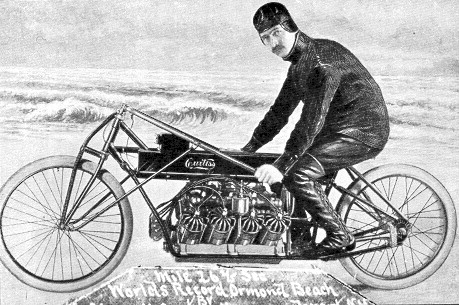 Curtiss V8 - Shaft drive, 40hp. Ormond Beach, Florida, 1907
Photograph courtesy of the Glenn H. Curtiss Museum, Hammondsport, New York.
Curtiss and the Wright Brothers
Curtiss, Glenn, 1878-1930
Glenn Curtiss photographs
---


Robert Fulton Jr.
In 1932, Robert Fulton Jr., descendant of the inventor of the steam ship -- inventor, sculptor, architect, writer, film maker, pilot and explorer - and motorcyclist - rode around the world on a Douglas motorcycle. Books available here
---
Jennifer Patterson
of "Two Fat Ladies" fame rode a variety of scooters and motorcycles for most of her life. The outfit in the television show was a Triumph Thunderbird with Watsonian Jubilee sidecar. Jennifer, a smoker, died of lung cancer in 1999 on the 10th August - feast day of St Lawrence, patron saint of cooks.
---
Dwight D. Eisenhower was involved with testing motorcycles coast to coast for the US military.
---
Douglas Bader
Douglas "Tin Legs" Bader, the fighter pilot ace of WWII, owned a Douglas motorcycle when he first joined the airforce in the 1930s. In his biography 'Reach for the Sky' he is riding back to camp from a pub with four pilots on the one motorcycle when he is stopped by the police. He crashed a Bristol Bulldog (the same type which Lawrence successfully raced against on his Brough Superior) and lost both legs before the war but was allowed to rejoin the RAF after war broke out.
Squadron Leader Bader was shot down during a dogfight over Europe and was captured by the Germans. He lost one of his prosthethic limbs in the accident (it was trapped in the cockpit and he had to cut it off prior to parachuting), and a replacement was dropped to him during a bombing mission by the RAF. He made three attempts to escape, and finished the war in the infamous Stalag 13.
Thanks to ClCERONE at aol.com

---
Peter Sisk writes
Oliver Sacks, neurosurgeon and author (of Awakenings fame), BMW rider.
John Gardiner, author (killed riding his H-D)
BTW, I believe that the car that Isadora Duncan was riding in when her scarf caught in the wheels and killed her was driven by one of the founders of Ducati.

---
Dorothy L Sayers rode a Ner-a-Car

---
King Hussein of Jordan
The San Francisco Chronicle reported on June 22, 2000, that motorcycle enthusiast King Hussein was accompanied by three SFPD motorcycle officers and a member of the Secret Service, also on a borrowed SFPD bike for a tour of the area earlier in the month. The King was dressed as a police motorcyclist.
---
michaelmoon at home.com
Micheal writes (9/8/00)
Jay Leno - popular late night television talk show host - has a huge collection of motorcycles. He often rides an old Vincent (or brand new M.V. Agusta) to a roadhouse in the hills above Malibu.
Arnold Schwarzenegger (sp?) - popularized the Harley Davidson 'Fat Boy' model in Terminator 2 (early 90s). Rides Harleys. (Yeah, I know ...TM TM TM ad nauseum)
Howard Hughes - reputed to ride dirt bikes in the desert. There was a movie, with Jason Robards as a dirt bike riding, long haired Howard Hughes that is picked up after an accident. [More below]
Keenan Wynn - ever wonder who turned Steve McQueen on to motorcycles? This is the culprit.
Bob Dylan rode - remember the Nashville Skyline album? It was supposedly the result of a life changing recuperation from a serious accident on a motorcycle near Woodstock N.Y. (On 29 July 1966, Bob Dylan was injured in a motorcycle accident near his home in Bearsville, near Woodstock, upper New York State.)
If George Patton didn't ride I'd be shocked. He was a cavalry officer before he commanded armored divisions. Something to ask somebody that would know.
..and Ann Richards was governor of Texas before George W. Bush. She had a white Harley Davidson.

---
King George VI
George VI had a lightweight Douglas while at university and in addition sponsored a rider at Brooklands. He did not race himself.
---
Edward VIII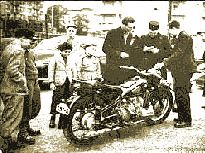 I have seen a picture of [
Edward VIII
] passing what looks like a BMW through customs in Belgium - of course it might have been a Douglas - but it sure looked like a beemer to me.
michaelmoon at home.com
---
Marsha Keith writes (18/8/00)
Wynnona Judd of Country Music fame is a motorcyclist.
Queen Latifa is the stage name for an African American woman who is well regarded in the hip-hop/rap music community in the U.S.A ... she is also a T.V. and Hollywood movie actress. She is a positive role model for young women in the minority communities of the U.S. Her beloved brother was her riding partner and he was killed on a motorcycle... and she went through the typical spiral down of the Los Angelas community ... but, she is riding again and talking about safety and positive riding image. She is a very dynamic presence.
---
Howard Hughes produced a movie in the 1930's named Hell's Angels, an epic movie about Royal Air Force fighter pilots in World War I. The same name was adopted by a B17 squadron during WWII.
Hughes once built a motorcycle from parts taken from his father's steam engine.
John Smith <jsmith at netrover.com> writes (19/8/00)
The Hell's Angels name was also used by one of the squadrons of the American Volunteer Group, aka the Flying Tigers, in China. In fact, one of the founders of the bike gang, Arvid Olsen, was the squadron leader.
Further information on Howard Hughes as a motorcyclist would be most welcome.

---
Jim Richards - veteran Kiwi racing car driver and winner of several Bathurst meets has a collection of motorcycles.
Mark Phillipousos (Tennis) has Harleys, Ducatis etc.
David Coultard (Formula 1 driver) rides a Ducati Monster.
James Strong (CEO of Qantas) rides a Ducati.
Paul Mercurio (star of Strictly Ballroom) rides GSX-R 1100
Larry Hagman (JR in Dallas) rides a Harley
Thanks to Michael Hrissis of www.hrissismotors.com

---
Clark Gable & Keenan Wynn both raced in the Los Angeles area in the 1940's. At one point there were films of this floating around in our motorcycle club but as I understand it's been lost for some time. There were other stars of the day as well but I cannot remember who they were.
Ran Hooper

---
Sir Malcolm Campbell (1885–1949)
English automobile and speedboat racer. A racing enthusiast from boyhood, Campbell set many speed records for motorcycles, airplanes, automobiles, and motorboats and in 1931 was knighted for his accomplishments. Driving his famed automobile Bluebird at Bonneville Flats, Utah, in 1935, Sir Malcolm was the first to reach the 300 mph (483 kph) mark. He then turned to speedboat racing and in 1939 set a new record of 141 miles per hour. Donald Campbell was his son.
Source: The Columbia Encyclopedia: Sixth Edition. 2000.

---
Sammy Davis, Jr. owned a motorcycle. Info required.
Enzo Ferrari raced motorcycles in 1926.
Charles Conrad, Jr, NASA Astronaut, died July 8, 1999, from injuries sustained in a motorcycle accident in Ojai, California.
Pete Conrad, Astonaut, 3rd man to walk on the moon
http://www.arlingtoncemetery.net/cpconrad.htm
Courtesy Michael Perry Oct 03.

---
Punk Rockers
In 1988, Steve Jones (Sex Pistols), Billy Idol, Nigel Dixon , Mickey Rourke, Paul Simonon (The Clash) and Ian Astbury (The Cure) rode from Texas to California.
Courtesy jonesgrrl1981
Hendrix, Idol...
Hi ya'll.... Just thought I would mention that Billy Idol, Jimi Hendrix, and Belushi are included ;) Idol travels to all the major events yearly and Hendrix owned a sharp ass pan.
Dan Akroyd road his motorcycle at John Belushi's funeral.
Duane Allman, famous for the slide guitar work on Eric Clapton's Layla album, rode a BSA. He was killed on a motorcycle in October 1971. Just a little over a year later Berry Oakley, bass player in the Allman Brothers band at the time, was killed in another motorcycle accident.

---
Hello,
I hope this would help:
I know Jeremy Irons ("Lolita", "Die Hard III") is a passionate biker, he mostly rides BMW tourers.
Sting used to ride bikes in the 80's (Yamaha XS 1100) but I don't think he still does it. Suppose it doesn't go along with tantra...
Also, Keanu Reeves rides Harleys, but I've never even seen him with a helmet, so I rather wouldn't comment on that...
So much from me.
Cheers,
Anna Heberer (April 2004)

---
...this I found at IrelandOn-Line.com (©Thomas Crosbie Media, 2004)
Mark Knopfler - The 49-year-old broke six ribs and his collar bone...when his Honda bike was involved in a collision with a Fiat Punto car in London.
Liam Neeson - Returning home on his Springer Softtail motorcycle, a deer ran into the road and collided with Neeson who drove straight into a tree.
Keanu Reeves - (star of The Matrix) In 1997, he was on crutches for weeks after he was involved in an accident in Los Angeles while riding his much-loved Norton bike. Reeves was reported to have delayed the filming of the Matrix sequel after he broke his ankle in yet another accident in January 2001.
Heather Mills - the second wife of Sir Paul McCartney, has also fallen foul of the two-wheeled machine. In 1993, during her modelling days, she was involved in a collision with a policeman on a motorbike and had to have her leg amputated.
David Ayscue III, USA (April 2004)
* Some reports, ie BBC, say 53.
---
Hello,
A great addition to that page would be Mert Lawwill; the 1969 Grand National Champion, co-star of "On Any Sunday," suspension innovator, and (as far as I'm aware) the only man to be in both the Motorcycle Hall of Fame and the Bicycle Hall of Fame. There's a ton of info about Mert on the web - just do a search and you'll find all kinds of things.
Food for thought...
Eric Call (April 2002)

---
Nice site you've got!
Here is a little more about the famous people who drov motorcycles.
1 Johannes V. Jensen World famous writer from Denmark had a Danish Nimbus
2 Famous painter Asger Jorn also from Danmark had too a Nimbus. He was co-founder of the famous COBRA-group of painters.
Anon. (Oct 2003)

---
Some time ago someone sent me some information about a Scandinavian monarch who rode motorcycles. Unfortunately I lost the information, along with the images, in a computer crash. Any clue as to who that might have been?
(This may have been a note about Albert of Belgium and his Royal Nord)

---
Elvis Presley owned at least one HD, and was seen on Japanese motorcycles also.


The cover of Enthusiast magazine of May 1956 featured Elvis Presley mounted on his 883cc Harley Davidson.
Che Guevara wrote a book on his motorcycling adventures. His image was captured by Korda (who died in 2001), but the copyright was stolen by an Italian publisher. More ...
(And is that a motorcycle jacket he's wearing? Ed)
Che Guevara
apparently rode around much of South America on a 16H Norton. He had a pet name for it, sorry I can't remember. [ La Poderosa? Ed. ]
Graeme Howarth, Auckland NZ.
Micheal Jordan owned a BMW Cruiser.

---
Ewen McGregor
was Obi-Wan/Ben Kenobi in Star Wars Episodes I, II & III. He rode his MC around the world.
Thanks to luteslinger at gmail
The ride is available as a DVD titled "Long Way Round" co-starring Charley Boorman
Ann-Margaret
Bob Dylan rode a Triumph Bonnie, so did Buddy Holly, Ann-Margaret had Harleys and a special electric start 350 Norton.(1) I also have seen publicity photo somewhere with her and Edward Turner.
Just remembered also that Larry Hagman has a special THREE cylinder Harley
David Vaughan-Hughes
Swedish born Ann Margaret rode a Triumph Trophy Trail in one of the Elvis movies, probably Viva Las Vegas. Elvis Presley sent flowers to all her stage appearances until he died in 1977. In 2000 she fractured her shoulderblade and broke three ribs in a fall in Minnesota. Ed.
ann-margret.com
(1) Possibly a 400 Electra? Ed.
Buddy Holly
Hi, Buddy Holly also rode an Ariel Cyclone.
Please see link
http://www.buddyhollyonline.com/bike.html
Kind regards,
Martin Rollinson
Charles A. Lindbergh
Charles Lindbergh owned an American-made Excelsior X V-twin of 1919 vintage. More information at CharlesLindbergh.com

---
subject: famous bikers
Email: rjewett<at>ulf <dot> edu
message: Didn't see James Dean anywhwere there. also Lauren Hutton crashed pretty bad on a harley a couple yrs ago.
James Dean
James Dean's uncle Marcus bought him his first motorcycle, a 1947 Czech Whizzer. Other motorcycles included a Harley-Davidson, a Norton 500, an Indian 500, an Italian scooter and a Triumph T110 with "Dean's Dilemma" painted on the side. Some sources claim the scooter was a Lancia, but I find no reference for such a vehicle.
JamesDean.com
Lauren Hutton
55 year old Lauren Hutton suffered a badly broken leg as a result of a motorcycle accident during a ride with fellow members of the Guggenheim Motorcycle Club including Dennis Hopper and Jeremy Irons in southern Nevada, October 2000. Hutton has been riding since before she bought her first car.

---
King Albert II of Belgium is an enthusiastic motorcyclist who acquired several speeding tickets as a more youthful prince. His bikes included a BMW R100RT, and he recently started a parade of some 20,000 motorcycles which stretched for 20 kilometres.
King Albert I of Belgium was also a motorcyclist. He rode a Royal Nord.

---
James Alan Mollison the famous pilot who flew the Atlantic and also married Amy Johnson was an early speedway rider [dirt track] in Australia and Amy once rode her brother-in-law's bike around and around the block when she didn't know how to stop it, he had to come toher rescue and pulled the lead off the spark plug to stop the machine, Amy also rode pillion on her first boy friend's machine to the Lake District and Scotland. Thanks to MOONL69 <at> aol.com, Nov '05.
---
Prince Michael of Kent
I heard years ago that Prince Michael of Kent used to ride a Vincent
Cheers, Jerry ijerry<at>gmail.com Nov '05
Bikes in the Fast Lane reports that Prince Michael, Prince Nicholas von Preussen and others "are planning to ride BMW R1150GS-Adventurer motorcycles 6000 miles through Russia, from Vladivostok to St. Petersburg in order to raise money for Russian charities."
Email: nick AT steppestravel.co.uk
message: You list Prince Michael as having joined Nicholas von Preussen etc. on their ride from Vladivostok to Moscow. In fact he completed 3 or maybe 4 days (which was all he was ever going to do) and left the group in Khabarovsk.

---
31st December 2005
subject: Photo's of famous people on motorcycles
Email: Brenda<at>Oakridgekennel.com
message: I am on a quest for photos of famous people on motorcycles. It is very hard to find. Any suggestions as to who to write or ask for photo's? Also...Roy Rodgers not only rode Trigger (His palomino horse) he also was fond of riding his Harley's til the end.
Thanks for any info about the photo's.
Brenda

---
Pro Hart - Popular Australian naive painter who died in 2006
He was a member of Ulysses Motorcycle Club, whose members swear to "grow old disgracefully". Pro Hart had a considerable collection of classic bikes and cars, I believe.

---
September 7th 2006
Info courtesy: dormouseg3l<at>btopenworld.com
Emperor Rosco
Seventies Radio 1 D.J. Emperor Rosco rode a Norton Commando special, built by Comerfords of Thames Ditton, based on the Hi-Rider model.
Dick Emery
Comedy actor Dick Emery was a keen motorcyclist. He had several bikes, including one of the first Honda CB750's
Dominic Brunt
Dominic Brunt, who plays Paddy the vet in long running TV soap Emmerdale; crashed his Suzuki Hayabusa last year, putting his head through the rear window of a Volvo. He is still riding regularly.

---
Juan Perón
October 2006: a correspondent writes (in Spanish) that President Peron of Argentina was the owner of a Hoffman Gouverneur

---
November 2006
from steves AT twowheel.wanadoo.co.uk
Prince William
One obvious famous motorcyclist who has been ommitted is Prince William, heir to the throne. Another is the late comedian Dick Emery, who owned a Honda 750/4 amongst others.
Damon Hill raced bikes before cars.
Norman Wisdom still rides to this day, not surprisingly as he lives in the Isle of Man and Mick Jagger used to ride (Honda 250).
Points of interest is that Steve McQueen's great friend and fellow star of 'On Any Sunday' did the fence jump in 'The Great Escape' although Steve was emminently capable of doing it himself, but the film's hierarchy wouldn't allow it, he also did some of the riding as one of the German's chasing himself and to train for the ISDT he spent some time in Slocombes of Neasden changing tyres!
Bill Ivy did the riding in the film 'Girl On A Motorcycle' wearing a blonde wig.

---
Nicholas Cage is apparently a keen motorcyclist with a penchant for Moto Guzzis.
Pink
From: stevej at primusonline.com.au
Read the other day where the artist 'Pink' rides a Harley Davidson Fatboy

---
Eric Bana
Eric Bana of Munich fame is a very keen motorcyclist and rides Ducati Sport Bikes
From seanus at mac.com 0803

---
Hunter S Thompson rode with the hells angels while writing a book about them.
Jerry Garcia owned a nice Harley.
Rick Griffin (artist famous for many record album covers) was killed on his bike.
From capttrips25 at charter.net Dec 2008

---
Akon
Rap/r&b singer Akon was an avid 2 wheel rider but lost a friend in an accident. He has since tiptoed back to 3 wheel motorcycles and just purchased a CanAm Spyder
From chuck.hannah at gmail.com Feb 2009

---
Mountbatten
By the way, for those of you who forgot your school history lessons, HRH Prince George of Battenberg who zipped around on a Wall Autowheel in his twenties (born 1892) was none other than George Mountbatten (he relinquished the above title in 1917). His sister was Princess Alice, (mother of Prince Philip, Duke of Edinburgh) and brother was Louis Mountbatten, 1st Earl Mountbatten of Burma.
http://buyvintage.wordpress.com/page-6-1914-royal-enfield-wall-autowheel/

---
Alan Turing
The man who cracked the German Enigma code, and who went to his grave not only unrewarded but actually persecuted by the nation he helped through its darkest hours, rode a powered pushie.
http://www.thebuzzingclub.co.uk/archive/arc0015.htm

---
Feb 2009
More Famous Motorcyclists
moonbandito<AT>yahoo.com
Hugh Jackman - We know him as wolverine in the X-men series and as the host of the academy awards in 2009.
Ben Stiller - a comic and not a huge lover of two wheeled transit nevertheless has ridden a sidecar rig for one of his films.
George Clooney - ''I've been riding for 30 years, and I've had three accidents, which isn't bad odds,' he told Time magazine. 'I'll keep riding.' His own broken bones and girlfriend Sarah Larson's broken foot didn't stop him.
Brad Pitt and Angelina Jolie both ride. Motorcycles.

President Suharto - Indonesia - enjoyed an HD sidecar rig before he passed into the nether regions.

---
July 2009
Harvinatorthe<AT>aol.com
Lee Marvin used to ride (check him out in The Wild One) and also raced the Big Bear Run with friend, Keenan Wynn. Both rode Triumphs. In the 60s, Wynn had a T120 with a Steib sidehack. And yes, Bud Ekins doubled for Steve McQueen doing the jump in The Great Escape.
I used to frequent Ekins' shop in Sherman Oaks, CA.

---
September 2009
jswis AT optonline.net
What about Malcom Forbes who at one time owned over 60 motorcycles and took a group to Russia see
http://en.wikipedia.org/wiki/Malcolm_Forbes
Wikipedia says "Malcolm Forbes became a motorcyclist late in life. He founded and rode with a motorcycle club called the Capitalist Tools. His estate in New Jersey was a regular meeting place for tours that he organized for fellow New Jersey and New York motorcyclists. He had a stable of motorcycles but was partial to Harley Davidson machines. He was known for his gift of Purple Passion, a Harley-Davidson, to actress Elizabeth Taylor. He was also instrumental in getting legislation passed to allow motorcycles on the cars-only Garden State Parkway in New Jersey. He was inducted to the Motorcycle Hall of Fame in 1999."

---
Brad Pitt to replace 'trashed' motorbike
November 5, 2009
Brad Pitt says he is in the market for a new motorcycle.
The actor, in Tokyo to promote his latest movie, Inglourious Basterds, said he trashed his favourite bike recently while trying to escape overzealous photographers.
"I had a little mishap," he said. "No injuries, except my ego. I was trying to get away from some paparazzi and instead gave them a good story. It was my favourite bike, so that is really sad."
Pitt, a well-known motorcycle buff, was involved in a minor accident in Los Angeles last month after a paparazzo reportedly cut him off in traffic. He said that while he is in Tokyo he will be looking for a replacement.

---
December 2009
subject: peter fonda
Email: wbranche <> cfl.rr.com
message: hi, i did not see a reference to peter fonda, he is an active motorcycle rider....
Peter Fonda rides an MV Agusta F4-1000. In 2002 Fonda was inducted into the AMA Motorcycle Hall of Fame -
Wikipedia on Fonda.

---
Jan 11th 2010
subject: motor cycle riders
Email: jane<>samsolutions.org.uk
message: we were talking with friends about famous people who are motorcycle enthusiasts. we came up with some additions to your list
Viscount Linley
John Pertwee (who has ridden in the Sunbeam Pioneer Run and reputedly rode in some episodes of Dr Who)
Martin Shaw -actor
Hugh Laurie
Alan Davis -actor
there are more but my memory is rubbish so can't remember at the moment. i will email you when i remember them!
i'm not famous but i ride a ducati mnonster s4r
..........
Re John Pertwee: Trawling the forums brought this: "I'm pretty sure that J.P. used grass track motorcycles back in the mists of time, a contemporary of Adrian Kessell et al." And from a 1990 interview "I started riding the Wall of Death when I was sixteen, on a motorbike, and I worked in the circus."

---
Jan 2010
Bill VanDerKloot
Bill was a member of the RAF Ferry Command who was the American civilian pilot who flew Winston Churchill around the world in a B24 during the war. Bill rode an Indian with his dog on the tank.
Churchill Was His Copilot

---
Jan 2010
Jake Brockman, a member of the band Echo & the Bunnymen, died in Sept 2009 as the result of a collision between his motorcycle and a decommissioned ambulance on the Isle of Man.

---
Jan 2010
Prince Michael of Kent, John Surtees, Graham and Murray Walker are all motorcyclists who have ridden in the Sunbeam Pioneer Run

---
Nov 2010
Neil Peart of the rock band Rush rode his R1200GS some 21,000 miles through 19 countries, performing 57 concerts along the way.
http://www.neilpeart.net/articles/motorcyclist/index.html

---
Jan 2011
leon.e.hooten<AT>us.army.mil writes
Bon Scott of AC/DC was an avid motorcyclist riding thoughout the 1970s
Kawaski 900 late 70s

April 2011
sbrunner<at>bigpond.net.au writes:
Bob Hawke former Australian Prime Minister and ATCU leader rode a Panther while a univeristy student http://www.library.unisa.edu.au/bhpml/bh-photos/realia/realia.asp
Bob Hawke "had a near fatal accident whilst riding through King's Park, which he later credited as a turning point in his life, providing the motivation to live life to the fullest, and ultimately follow a political career. "
John Maynard Keynes the Economist is recorded to have hi-jacked a motorbike to ride from Cambridge to London this reference doesn't give the make but I think it was a BSA
http://www.hm-treasury.gov.uk/Search.aspx?terms=motorbike
Patrick Lichfield (Lord Litchfield) photographer was a life long motorcyclist. Many refernces exist, this is one of the more amusing http://www.gettyimages.com.au/detail/56140235/AFP
---
May 23 2011
baxtertim at or near hotmail.com
Just wanted to bring
Prince William
up to date for your famous riders page: Article in the
Telegraph UK
He was riding a Ducati 1198.
---
Fri Aug 19 2011
jcorey48 uses gmail.com
Model: Lambretta scooter 1958
Message:
Burl Ives
, folk singer. Check the original owners manual of your 1958 Lambretta scooter. There is a photograph of (big man) Burl Ives astride a new Lambretta, illustrating that even the famous love riding Lambrettas.
---
August 2012
Roy Orbison
Roy Orbison and his first wife Claudette were riding motorcycles when she was hit by a truck and died instantly.
Roy Orbison actually died of a heart attack some years later
Thanks to David Rowe at hotmail

---
Sir Arthur Conan Doyle
Manufacturers of the Roc motorcycle, Wall experimented with a number of unorthodox designs and was financed by Sir Arthur Conan Doyle...
---
---
If you know of any other motorcyclists who would fit into this group, or have any pertinent information, please email me...