Large collection of Vincent memorabilia for sale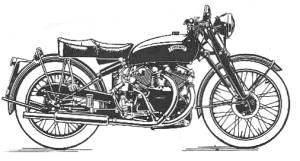 Robin & Dee Vincent-Day are offering all of Philip Vincent's unique archive collection for sale.
This archive is quite stunning and we would like for it to be sold as one lot...... "intact" but we are prepared to offer individual items if a serious bidder is not forthcoming.
The extent of this collection is simply amazing and has hardly been viewed by anybody outside of the family.
For example ; handwritten war time letters between PCV and Phil Irving, letters from the like of Rollie Free, Ginger Wood, Bill Clarke, Bob Greene and many other well known names in the industry including Sir Alec Issigonis.
PCV also kept signed carbon copies of his replies so there is a whole story yet to be told.
The correspondence around the time that Bill Clarke, a company director and WW2 bomber pilot, went "missing on ops" is sad..... but quite fascinating.
In 1943 a handwritten letters from Phil Irving to Phil Vincent, one apologizing for having to cancel a meeting because of a "Home Guard" exercise !
There are two Bomb Fuses which the factory produced during the war years.... stamped "HRD".
Early items include Harrow school reports, sketches of PCV's spring frame which he made when he was 16, the original patent applications, the letters granting his patents, information about the formation of the company, PCV's exhibitor's pass from the 1929 Earls Court Show and much much more.
There are over 500 photographs from all round the world and from inside the works.......many have never been published.
Catalogues..... one in Spanish from Argentina........ even a Swedish one !!
Many magazines with articles about Vincent's or articles written by PCV. Several rare show issues.
Trophies, badges, medals, movie films, and books from the works library, some are signed and dated.
Personal effects such as passports, diaries, engraved jewellery etc.
We even have the original "Vincent Indian" tank transfers !!
There are 10 large personal scrapbooks which were compiled by PCV himself....1926 to 1955. These are really fabulous items with press cuttings from all around the world with handwritten captions added by PCV.
Company accounts, production figures, sales figures, share certificates, engine test reports, drawings, minutes of board meetings. The Vincent HRD company were even offered all the assets and the name of the Brough company at one stage.
Then you have information about the industrial products, the lawnmowers, the Amanda, the marine engines, the Picador project, the Monocar and of course..... Phil Vincent's rotary engine.
Ownership of the archive carries with it a fair amount of responsibly to ensure that this collection is preserved for future generations.
If you are interested or know of anyone else who may be also be interested in this impressive and totally unique archive, please feel free to pass on these details and contact us.
Robin, Dee & Philip Vincent-Day.
vincent-day at ntlworld.com