After many decades in Wentworth Avenue, venerable BMW dealer Tom Byrne Motorcycles joined a growing number of other shops in the new Sydney motorcycle centre in the St Peters - Tempe area on the Princes Highway, not far from Red Baron and Clubman Motorcycle Rentals.

Tom Byrne Motorcycles was Sydney's oldest established BMW dealer. Their workshop in Alexandria was renowned for its high standards of service under the management of Don Wilson, and more recently Peter Clark.

In the late 1990's the business moved from Wentworth Ave to a modern multistory facility at 140 Princes Highway, St Peters NSW. After some changes in management, the business was sold to another long established BMW Sydney dealer.

Don Wilson and his son Mark set up their own shop in Greenacre, and subsequently the business was bought by Rob Dunston who renamed it Motohansa.

Tom Byrne had premises at 34 Wentworth Ave in 1951. The photo on this page shows their sign on premises in probably Goulburn St, but that may have been the workshop in those days. In the 70s, 80s and into the 90s, the workshop was in Euston St Alexandria in the building which housed Sydney Motorcycle Wreckers from the late 1990s until 2015.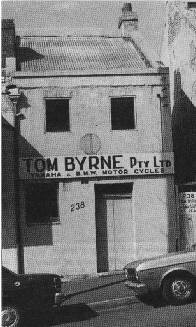 Tom Byrne's shop in the 1960's.