News #38, April 11 2000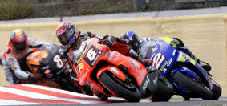 Four-strokes for GP!


The FIM, the world controlling body of motorcycle sport, has released draft regulations for the introduction of four-stroke bikes into the world grand prix series from January 1, 2002.
Two-stroke machines may still run, with a maximum fuel capacity of 32 litres. Four-strokes must have an engine displacement of under 990cc (500 for two-strokes in the premier class) and, initially, the four-strokes must be three-cylinders or more with a max fuel capacity of 24 litres for 2002-2003, then 22 litres from 2004.
Three-cylinder bikes have a lower weight limit of 135 kilos; triples with oval cylinders (an obvious reference to Honda's dormant NR technology) plus conventional machines of four or five cylinders have a 145kg limit. For six-plus cylinders, the limit is 155kg.
In a move that has caused some confusion, the FIM has left the door open for the possible two-cylinder four-stroke entrants, saying the issue is up for discussion and would be limited to genuine prototypes. Presumably this is to prevent entries of established superbike designs. How is this judged? Good question...
McCOY DROPS TO THIRD IN 500cc CHAMPIONSHIP


Hampered by a wrong tyre choice and a hand injury, Australia's Garry McCoy has dropped from first to third in the 500cc world championship after the third round in Japan.
McCoy finished only ninth on his Yamaha at the Suzuka track, where Japanese rider Norick Abe (pictured leading above) scored the third win of his 500cc career on another Yamaha ahead of American Kenny Roberts Junior on a Suzuki.
The result was a little disappointing for McCoy after victory in the season-opener in South Africa and third place in Malaysia, but he was happy to grab another seven championship points.
The relaxed 27-year-old from Camden, on the outskirts of Sydney, now has 48 championship points to the 55 of new leader Roberts, with the next round at Jerez in Spain on April 30.
Spaniard Carlos Checa remains second on 51 points after gaining another 10 for fifth place in one of the best 500cc races for years with up to eight riders fighting for the lead mid-race.
Even at the chequered flag the top eight were separated by just 4.9 seconds, but Italian Max Biaggi was a notable casualty on his Yamaha and reigning world champion Alex Criville of Spain blew his chances of winning by running wide into gravel soon after overtaking Abe and finished sixth.
Australia's 250cc rider, teenager Anthony West from Queensland's Gold Coast, finished a fighting seventh in his race to maintain his fifth place in that championship despite still suffering a sore shoulder from a fall in Malaysia.
McCoy went into the 500cc race as the world championship leader but found that cooler race-day weather quickly meant he could not maintain maximum grip with his 16.5-inch rear Michelin tyre.
After qualifying 11th and briefly racing in eighth place McCoy settled in ninth until the finish of the 21-lap race.
Displaying heaps of courage in front of his home crowd, Abe stormed past Roberts two laps from the finish to win, repeating his Japanese GP success of 1996.
Factory Yamaha rider Abe elected to use a 16.5-inch rear Michelin tyre - but a slightly harder compound than McCoy - only after the morning warm-up session.
Third-placed Tadayuki Okada of Japan also switched to a 16.5-inch rear tyre away from the traditional 17-inch on his Honda.
McCoy had used the 16.5-inch style tyre in South Africa and Malaysia.
"I think I could have done a lot better if it was a bit sunnier - it was bit too cool for our rear tyre," McCoy said. "I got away from the start okay, although I got baulked a couple of times with guys sliding around. I just waited for the rear tyre to start working but it didn't happen.
"My right hand, which I bumped in a practice crash on Saturday, feels a bit tight but it wasn't a big problem."
McCoy's race engineer, Hamish Jameson, said: "We used Michelin's softest compound rear tyre and I guess Norick went a bit harder than us, but for Garry I don't think the tyre was soft enough.
"It was perhaps a bit too cool for us - certainly cooler than the past two days of qualifying.
"You never like to be beaten but we have to go away and learn from this, and perhaps also look at the set-up on the bike."
In the 250cc race the Australian representative West rode well on his Honda to finish seventh after starting from 14th position. West made a blistering start and was seventh by the end of the first lap.
"My bike behaved really well today," West said. "It was the best it's been all weekend. I got a good start and settled into seventh place. I had to up the pace at one time to keep it but I was still comfortable. It couldn't really be a better result for me seeing how I've been going in practice.
"I'm still in fifth position in the championship so that is good."
West's teammate Tohru Ukawa took second in front of his home crowd after an enthralling three-way battle with countrymen Shinya Nakano and Daijiro Katoh.
Katoh scored his third win from his last three starts at Suzuka but Nakano still leads the 250cc championship.
Japanese riders also filled all the podium positions in the 125cc race at Suzuka, with Youichi Ui victorious on a Derbi machine from Noboru Ueda and Masao Azuma on Hondas.

500 standings: 1 Kenny Roberts 55, 2 Carlos Checa 51, 3 Garry McCoy 51, 4 Norick Abe 34, 5 Nobuatsu Abe 32, 6 Alex Barros 30, 7 Tadayuki Okada 26, 8 Alex Criville (1999 world champ) 21, 9 Loris Capirossi 20, 10 Regis Laconi 20.
250 standings: 1 Shinya Nakano 66, Daijiro Katoh 61, 3 Olivier Jacque 46, 4 Tohru Ukawa 36, 5 Anthony West 30.
125 standings: 1 Youichi Ui 45, 2 Noboru Ueda 42, 3 Emilio Alzamora 40, 4 Roberto Locatelli 38, 5 Mirko Giansanti 36. (Story: Geoffrey Harris)
More info: www.dorna.com

News


World MX standings after last weekend's Dutch 500, 250 & 125cc rounds.
500: 1 Joel Smets 112, 2 Marnicq Bervoets 89, 3 Darryll King 64, 4 Andrea Bartolini 61, 5 Peter Johansson 48.
250: 1 Mickael Pichon 105, 2 Frederic Bolley 72, 3 Pit Beirer 71, 4 Mickael Maschio 67, 5 Gordon Crockhart 54.
125: 1 Grant Langston 99, 2 James Dobb 86, 3 Mike Brown 73, 4 Trampas Parker 64, 5 Carl Nunn 60.

Yamaha is said to be close to releasing a mass production version of its hydraulic two-wheel-drive system, which has been under development by subsidiary Ohlins for several years.
The existence of prototype machines in late stages of development was confirmed by the factory's head Euro test rider, Englishman David Bean, during 1998's world media launch of the R6 sportbike. Bean confirmed the system was being played with and may see light of day sooner than most people expected.
The interesting part is that the system may debut on a road bike of some description rather than the off-road machine that most observers have expected.
UK Motorcycle News reports what it calls a Yamaha insider as saying the system could be applied to scooters and large-capacity sports-tourers, as well as the obvious off-road machinery.
Bean hinted that the road application had real benefits, while other sources mention greater stability, particularly in slippery conditions. This in fact may make scooters more appealing to people who are not bike-oriented if it gives them a greater feeling of security.
UK MCN reveals Yamaha's Euro 2WD project leader as saying "We believe 2WD will open up huge possibilities for bikes now and in the future. If a designer has a clean sheet of paper, a bike fitted with 2WD could offer him a whole new set of options regarding where he puts the centre of gravity and how he designs the chassis." (You can visit MCN at www.motorcycleworld.co.uk)
No firm release dates or models have been revealed at this stage, and it sounds as though Yamaha is testing the customer 'water' to see what the reaction is like before deciding on what configuration is released first.
Various private designers and manufacturers have been toying with two-wheel-drive for solos over the decades, with Suzuki and Honda both reported to be working on their own systems. Australian engineer Ian Drysdale went one step further a few years ago by building a 2WD prototype with two-wheel-steering.
The 2WD feature has been around for many years on limited production machinery, such as the American Rokon (www.rokon.com) - a robust off-roader that lays claim to having its variation on the theme on the market for 30 years.

English designer Al Melling reckons we have not seen the last of the wild V8 Nemesis, the bike that was to be the flagship for the here-it-is-oops-there-it-goes Norton brand. Melling's former boss, Norton CEO Robert Kilpatrick, is facing fraud charges in the USA. Meanwhile Melling says he has won the right to produce the bike in limited numbers, a task which he says is comparitively simple and inexpensive as most of the development has already been paid for. The bike will still have a price that resembles a telephone number for a 1500cc machine which is claimed to make 210hp (156kW) at 12,000rpm.

Gas Gas is breaking with tradition and moving away from two-stroke to four-stroke powerplants. The firm has a 426cc model under development in enduro trim and it's likely we'll see motocross and trials versions.

Ducati is following up on its on-line marketing of the 2000 production of the MH900e by promising buyers a peek at the bike in action via video footage on the internet. Keep an eye on the company's website at www.ducati.com.

If you happen to have ordered an MV Agusta F4S and feel you'd like more than the standard 128hp (95kW) offered by the petite machine, German firm LKM may be able to help. It is offering a hot-up kit which it says adds 12hp. The catch is that you need to send the bike to Germany to have the work done.

Laverda's long-awaited triple cylinder flagship is delayed yet again, this time by negotiations over the potential purchase of the company by financier George Soros. While the deal looks likely to go ahead, the release date for the new toy, called the Tre, looks to be 2001.
Australian News


A quick reminder to keep the ear'oles open for Ride Rage, Radio 2RRR's weekly motorcycle show. It's hosted by Rob Milton and happens every Monday at 2.00-4.00pm on 88.5mHz.

Another reminder, this time for the legendary Alpine Rally (June long weekend), 30km north of Kiandra on the banks of the Yarongobilly River. There's usually a challenging track in to the site, among some of the world's best riding roads (Snowy Mountains). Enquiries to Henning.Jorgensen@uncletobys.com.au

From Geoff Harris at the GP Corp: Motorcycle Grand Prix host broadcaster in Australia, Fox Sports, is taking suggestions (it's not a competition, because there's no prize!) on a new nickname for 500cc world championship hopeful Garry McCoy, trying to find something that tops "Gazza": The best they've heard so far is Mr Squiggle, because McCoy's sliding style of riding leaves so many black lines on the track! Any other suggestions can be forwarded to bikes@foxsports.com.au

From regular correspondent Volvi: Can you please give some coverage to our newly formed Hayabusa club which is going from strength to strength, here is the link http://www.hyp4r.com/hayabusa/club .htm


Issue 35
Issues 33 & 34
Issues 31 & 32





[Back Issues | Motorcycle Books]
[Roadtests | Travels] [Calendars | Garage sale]
Article by Guy Allen
home | sitemap | motorcycle books
Copyright © 1997-2023 dropbears