Queen Victoria
,
Alexandrina Victoria Wettin
of the Royal House of Saxe-Coburg-Gotha (May 24, 1819 - January 22, 1901) was Queen of the United Kingdom for a record sixty-three years, seven months, and two days (June 20, 1837 - January 22, 1901). She was born on May 24, 1819, to Edward Augustus, Duke of Kent, the fourth son of King George III, and Princess Victoria of Saxe-Coburg-Saalfield, sister of King Leopold I of the Belgians. Following the death of Leopold's wife, Princess Charlotte Augusta, in childbirth, the only legitimate child of King George IV, in 1817, there had been a scramble by the king's brothers to abandon their mistresses, marry, and beget an heir to the realm; Edward, marrying at the age of fifty, was the one who succeeded.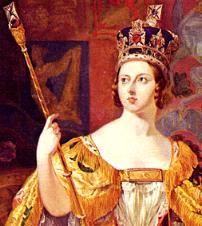 Victoria
Queen of the United Kingdom
of Great Britain and Ireland
At the tender age of eighteen, she ascended to the throne following the death of King William IV on June 20, 1837, Victoria was to prove Britain's longest reigning monarch. In her early days, she was largely dependent for advice on the Prime Minister, William Lamb, Viscount Melbourne, with whom she forged a strong relationship.
Victoria and Albert
Victoria met Prince Albert of Saxe-Coburg-Gotha when she was just sixteen, and found him appealing even then. The families' desire to unite the two happened to coincide well with the desires of Victoria and Albert themselves, and they were married on February 10, 1840. However, there was some friction between them at first, because Albert wished to take an active role in the administration of the realm. Eventually, they reached a compromise, and their marriage became an outstandingly happy one, with the result that Victoria was completely devastated by his early death in 1861.
An indirect cause of Albert's death was the irresponsible behaviour of their eldest son, Bertie, the Prince of Wales. Victoria continued to regard Bertie as unfit to take responsibility, even though he was the heir to the throne, and never allowed him the kind of role that would have helped him prepare for kingship. With the extra time on his hands he became an aging playboy, whilst the queen withdrew into semi-permanent mourning and was popularly known as "the widow of Windsor". Her withdrawal from public life increased the profile of her children, most notably, Bertie and his wife Alexandra. She was known to keep dachshund dogs.
Relying increasingly on a Scottish retainer, John Brown, Victoria developed a reputation (which she did not altogether deserve) for being stern and lacking in humour. Her favourite Prime Minister, Benjamin Disraeli, persuaded her to assume, by Royal Proclamation of April 28, 1876, the title of "Empress of India," reflecting the fact that she had presided over a massive expansion of the British Empire and the continued rise of Britain as an industrial power. On January 1, 1877, at the first Imperial Assemblage (or Durbar) in Delhi, Victoria was proclaimed Empress of India. She was not present, and she never visited India. Later in 1887, her golden jubilee brought her to new heights of popularity, and she went on to celebrate a diamond jubilee ten years later.
Victoria was known as the Grandmother of Europe. However, she was the first known carrier of hemophilia in the royal line. It remains unclear how she acquired it. One theory is that it came about as a result of a sperm mutation from her father, who was 52 when Victoria was conceived. Alternately, she may have acquired it from her mother, though there is no known history of hemophilia amongst her mother's family or her maternal ancestors.
What is clear is that she passed it on to at least two of her daughters ( Princesses Alice and Beatrice) with tragic consequences for the heirs to the Russian and Spanish thrones who were the descendants of these two daughters. The most famous victim of this disease was Aleksey, the son of Nicholas II of Russia, who inherited the disease from his mother Alexandra, a granddaughter of Victoria. Queen Victoria's youngest son, Prince Leopold, was also born with hemophilia and died a young man because of it.
Queen Victoria died in 1901, at Osborne House on the Isle of Wight and was buried at Frogmore, Windsor Castle. She was succeeded by her eldest son, Edward VII.
Quotation
"We are not amused." - This quotation is attributed to Victoria, with varying stories. One has her saying it after viewing a production of Gilbert and Sullivan's
HMS Pinafore
. Other stories describe it as a reaction to a groom-in-waiting of hers, the Hon. Alexander Grantham Yorke, either to a theatrical production he put on, or to a risqué joke he told to a German guest and which the Queen asked him to repeat after the guest laughed loudly. In this account, she was not using the royal "we" but speaking for the affronted ladies of the court.
"I will be good." - 11-year-old Victoria's spoken response in 1830 when her governess let her know that one day she would be Queen.
"Since it has pleased Providence to place me in this station, I shall do my utmost to fulfil my duty towards my country; I am very young, and perhaps in many, though not in all things, inexperienced, but I am sure, that very few have more real good will and more real desire to do what is fit and right than I have." - her response in her diary upon becoming Queen in 1837 at age 18.
Children of Queen Victoria & Prince Albert
Victoria (November 21, 1840 - August 5, 1901), Princess Royal, married Friedrich III (1831 - 1888), briefly Emperor of Germany
Albert (November 9, 1841 - May 6, 1910), Prince of Wales (later, Edward VII), married Princess Alexandra of Denmark (1844 - 1923), daughter of Christian IX of Denmark
Alice (April 25, 1843 - December 14, 1878), married Louis IV (1837 - 1892), Duke of Hesse-Darmstadt
Alfred, Duke of Saxe-Coburg and Gotha (August 6, 1844 - July 31, 1900), Duke of Edinburgh, married Grand Duchess Marie of Russia (1853 - 1920)
Helena (May 25, 1846 - June 9, 1923), married Prince Christian of Schleswig-Holstein
Louise (March 18, 1848 - December 3, 1939), married John Campbell, Duke of Argyle
Arthur (May 1, 1850 - January 16, 1942), Duke of Connaught, married Princess Louise of Prussia (1838 - 1923)
Leopold (April 7, 1853 - March 28, 1884), Duke of Albany, married Helena of Waldeck-Pyrmont
Beatrice (April 14, 1857 - October 26, 1944), married Prince Henry of Battenberg