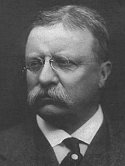 Theodore Roosevelt
Rank:

26th

Term of Office:

September 14, 1901 - March 3, 1909

Followed:

William McKinley

Succeeded by:

William Howard Taft

Date of Birth

Wednesday, October 27, 1858

Place of Birth:

New York City

Date of Death:

Monday, January 6, 1919

Place of Death:

Oyster Bay, New York

First Lady:

Edith Kermit Carow

Occupation:

author, lawyer

Political Party:

Republican

Vice President:

Charles Warren Fairbanks (1905-1909)
Theodore Roosevelt (October 27, 1858 - January 6, 1919) was the 26th (1901-1909) President of the United States.
Sickly as a young man, he took to physical exercise and became a sporting and outdoor enthusiast, frequenting such areas of natural beauty as the Grand Canyon. His energetic example influenced many to take up physical exercise during the urban sports boom in the early part of the century.
Roosevelt was born in New York City, October 27, 1858. He graduated from Harvard University in 1880. He was a member of New York State Assembly from 1882-1884. He moved to North Dakota and lived on his ranch, then returned to New York City in 1886, where he was appointed by President Benjamin Harrison as a member of the United States Civil Service Commission 1889-1895, when he resigned to become president of the New York Board of Police Commissioners. He resigned this position upon his appointment by President William McKinley as Assistant Secretary of the Navy 1897-1898, when he resigned to enter the war with Spain;
Roosevelt rose to national prominence during the Spanish-American War as commander of the "Rough Riders". Before and after the war, he distinguished himself in New York City and State politics, as police commissioner and state governor. He made such a concerted effort to root out corruption and "machine" politics that, it is said, Republican leaders in New York advanced him as a running mate for William McKinley in the 1900 election simply to get rid of him.
Roosevelt assumed the presidency after the assassination of McKinley, and then in 1904 ran for office in his own right. Vice presidents had assumed the presidency due to the death of a president in the past, but Roosevelt became the first to win election to a second term on his own. In 1912, Roosevelt ran for President on the United States Progressive Party ("Bull Moose") ticket. He lost, but ran again in 1916, losing again.
In 1906 he was awarded the Nobel Peace Prize for drawing up the peace treaty in the Russo-Japanese War
He died at Oyster Bay, Nassau County, New York on January 6, 1919, and was buried in Young's Memorial Cemetery.
Theodore Roosevelt is considered by many to be the nation's first Conservation President. "There can be nothing in the world more beautiful than the Yosemite, the groves of the giant sequoias and redwoods, the Canyon of the Colorado, the Canyon of the Yellowstone, the Three Tetons; and our people should see to it that they are preserved for their children and their children's children forever, with their majestic beauty all unmarred," he said.
During his presidency, Roosevelt established the United States Forest Service, signed into law the creation of 5 National Parks, and signed the 1906 Antiquities Act under which he proclaimed 18 national monuments. He also established the first 51 Bird Reserves, 4 Game Preserves, and 150 National Forests. The area of the United States placed under public protection by Theodore Roosevelt totals approximately 230,000,000 acres.
Roosevelt's concern for conservation grew out of his experiences in North Dakota. Roosevelt first came to the badlands in September 1883 on a hunting trip. The 24-year-old Roosevelt was bursting with anticipation about shooting a bison. This feat took him 10 days to accomplish since by the time he arrived the last large herds of bison were gone, having been decimated by hide hunters and disease.
Before returning to New York, just two weeks after he arrived, Roosevelt became interested in the cattle business and entered into a partnership to raise cattle on the Maltese Cross Ranch. Five months later his wife, Alice, and his mother died on the same day. Grief stricken, Roosevelt decided to leave the East and increase his interests in the cattle business. He returned to North Dakota in 1884 and established the Elkhorn Ranch.

Roosevelt 5 Cents
United States 1922/25
Scott Number 557
During his years in North Dakota, Roosevelt thrived on the vigorous outdoor lifestyle and actively participated in the life of a working cowboy. Of this time he said, "I do not believe there ever was any life more attractive to a vigorous young fellow than life on a cattle ranch in those days. It was a fine, healthy life, too; it taught a man self-reliance, hardihood, and the value of instant decision...I enjoyed the life to the full." This was an important time in his development, and in fact, he once remarked that, "I never would have been President if it had not been for my experiences in North Dakota." Roosevelt actively ranched in the badlands until 1887 but maintained ranching interest in the area until 1898.
Whenever he managed to spend time in North Dakota, Roosevelt became more and more alarmed by the damage that was being done to the land and its wildlife. He witnessed the virtual destruction of some big game species, such as bison and bighorn sheep. Overgrazing destroyed the grasslands and with them the habitats for small mammals and songbirds. Conservation increasingly became one of his major concerns. "We have fallen heirs to the most glorious heritage a people ever received, and each one must do his part if we wish to show that the nation is worthy of its good fortune."
Today, Roosevelt's dedication to conservation is remembered with a national park that bears his name in the colorful North Dakota badlands, where many of his personal concerns first gave rise to his later environmental efforts. Theodore Roosevelt National Park is home to a variety of plants and animals, including bison, prairie dogs, and elk.
Teddy bears are named after him. His nickname was Teddy, and toy bear manufacturers took to naming them after him because once on a hunting trip he refused to kill a bear cub.
On March 23, 1909, shortly after the end of his second term as President, Roosevelt left New York for a post-presidency safari in Africa. The trip was sponsored by the Smithsonian Institution and National Geographic Society and received world-wide media attention.
Theodore Roosevelt is depicted fictionally in Gore Vidal's novel "Empire".
Supreme Court appointments
Oliver Wendell Holmes - 1902
William Rufus Day - 1903
William Henry Moody - 1906

This article is licensed under the GNU Free Documentation License, which means that you can copy and modify it as long as the entire work (including additions) remains under this license. See http://www.gnu.org/copyleft/fdl.html for details. It uses material from the Wikipedia article Theodore_Roosevelt