Triple Pete - Birdman
Regret to inform you that PPP was killed in a towing accident today, Sunday 17-9-00. Al.
Pete had made two succesful solos. On the third, the glider got out of alignment and Pete simply did not have enough weight to correct it.
Triple was the bravest man I've ever met.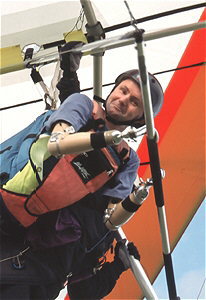 Pete - looking fairly chuffed - just after takeoff on his first tandem flight, Monday November 1st 1999.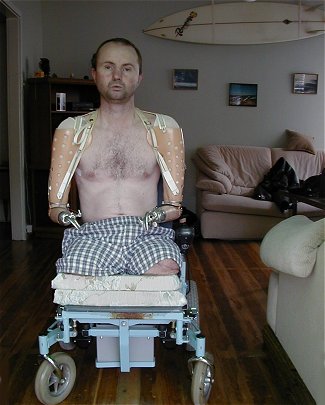 Triple Pete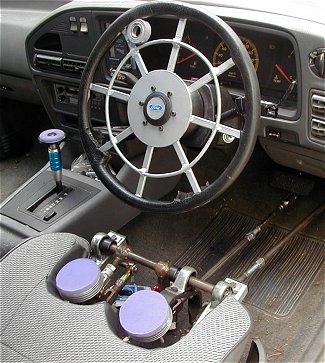 Pete's car. He drove this down to the RTA and asked for his licence back, so the story goes.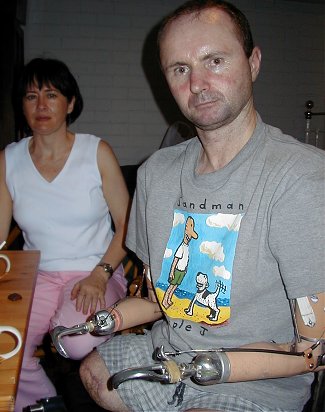 Pete and Anna - Feb 2000
There are many stories about Pete.
Al Giles was about to help him out of the car at near the veteran's hospital when a bloke came hobbling up the road on his crutches and one leg. Al turned to him and said "You lucky, lucky bastard". The chap stared at him in bewilderment for a moment, and then looked past him and spied Pete. "Triple Pete!", he said. "Man you're a legend".
On another occasion, Al walked into a restaurant with Pete in a backpack (I kid you not). A waitress stared hard, eyes wide. "Didn't eat his greens", said Al.
The story about the chips in the elegy is quite true. It was actually quite funny to watch one doctor sewing up another over the dinner table. Not sure what the other guests at Escott thought of it though.
Home | Triple Pete | Monster | Parrot | The Night Before | Airborne | Elegy | Gallery
Copyright © 1997-2023 dropbears