Morning Glory 1995
1995 Soaring Season
On our arrival at Burketown I switched from Area Frequency to the CTAF and gave a call, to be greeted warmly by a local commercial operator on his way in. We chatted, I followed him through the circuit and was on short final when Colin Brock, who had landed earlier in the other Grob, warned me that a powerplane was taxiing up to the bowsers. Yes, I replied, somewhat perplexed, that's Paul and I'm following him. What Colin was looking at was not us, who he hadn't yet spotted, but yet another Grob G109 circling the town in the circuit area around 1000 feet at mid base and apparently threatening to land in the opposite direction. Surprising really that we didn't see him, as we must have passed awfully close. We exchanged pleasantries when he landed, photographed the trio of G109s, and then the stealth Grob did something really amazing: it flew away. There was quite a good Morning Glory the following dawn.
Which I found nice for starters and so particularly did my co-pilot John who had done little flying since a triple fatality at his gliding club in Tasmania had discouraged him after twenty years in the sport. By day three I was feeling confident to the point of recklessness, and was determined to get the most out of this our third wave which I was certain had potential, having soared the previous day out past Mornington. I was to be disappointed.
I should have realised from virtually the moment we arrived that we were Johnny-come-lately this year. Alaric Giles and three accomplices had come with their hang-gliders and used up an absolutely super set of waves shortly before our arrival. Al's letter weeks later explained how he had totally ignored my rather heavy-handed advice to the converted and got himself sucked right into the wave whilst trying to make just one more great photograph. He was hurled around inside for about ten minutes before being spat out directly above the aerodrome. He didn't make it sound very funny at all. Another piece of advice I offered read "The sink on the lee side can be devastating, ...." Not wrong, cobber. Pity I didn't take my own advice.
After some difficult soaring for 50 or so K's the by this time resigned-to-his-fate Mr Levett & I attempted a second northerly crossing from a broken and dying section back to a tertiary which appeared to be reforming, in the hope of getting acceptable lift for a passage out beyond Mornington. We had advised the pilots of the other Grob to stay well out in front, on the primary's broad band of lift, and they had watched us struggling through the rough stuff. At this stage we were over Bentinck at about 7000' and had easy glide back to Sweers if things got tricky. Which they did in trumps. Within 5 minutes we were looking to land on Bentinck due to seemingly interminable sink thumping the vario needle against the stop, turned the motor on at 3000', continued to plummet seawards and eventually attained still air at around 2000' having travelled through about 9 miles of sink at 85 knots average. We landed at Sweers severely chastened.
Needless to say our approach on day four was a tad timorous.
Day five was a dud. All the rest too.
But we went fishing and caught mud crabs. Queensland Mud Crabs. Not quite sporting I understand to drag them from their lairs with a stick and tie them up with shoelaces, so we sang soft Van Morrison and enticed them with ripe catfish till they danced sideways into the esky. Oh Joy! Oh delightful little creatures with gigantic mandibles. Oh scrumptious crustaceans! My walrus grin welcomes you.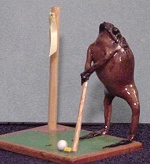 Latterly Burketown's favoured sport of Canetoad Golf has seen something of a recession with the arrival of the compound bow, and a large number of good size trophies was taken by one of our better archers. However, John and I both had difficulty with the 80 pound pull and so resorted to an air rifle with devastating results on the local savannah's unwelcome amphibian population. We managed to amass some 30kg of the little devils but were forced to evict them when they started wriggling again.
The first leg of the return was uneventful. We landed at last light at Charleville with sufficient fuel to fill a Zippo lighter and were regaled in the pub by a slightly wall-eyed character with the news of the day: a rain of frogs at Cloncurry. We hadn't the heart to disillusion him. They weren't frogs.
First published in Australian Gliding.
Cane-Toad - What Happened to Baz
More on canetoads
---
If you haven't already done so, you may wish to read
Pilot Notes.
You may also be interested in
flight data
from earlier years.
Al Giles' 1995 Article on Hang Gliding & the Morning Glory