Brough Superior 680
1933 Brough Superior 680 O.H.V. Combination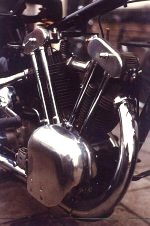 This machine was purchased in 1936 by the father of Ronald Maaskant of Muiden, near Amsterdam. Ronald undertook a ground-up restoration in 1980, and the machine subsequently saw very little use and was very original with the following exceptions:
The tank had been replaced with a very good replica (original included)
The sidecar body is by Hollandia (c1955).
The sidecar frame is Brough - the original body is missing.
The original leather bags were still in good condition, and the original exhaust had been re-plated and fitted. A replica exhaust had been made by Albert Wallis and was included.
Otherwise the bike was in very good condition with all matching numbers, requiring only minor detail attention when sold in 1999.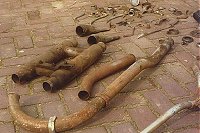 During the war, German soldiers took the bike. Tragedy resulted when the machine hit a tree, killing the rider and incurring a broken engine mount. It was welded, and the repair is still visible. The owner re-possessed the machine, and dismantled and hid it. It remained in pieces until restoration was commenced by his son Ronald in 1979.





Thumbnails, including that of the motor at the top of the page, are clickable.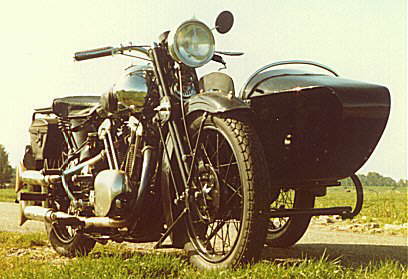 Engine number GTO/Z 29173/S - Frame number 5/1229
BS Home | sitemap | Brough Superior at Sheldon's Emu
Copyright © 1997-2023 dropbears