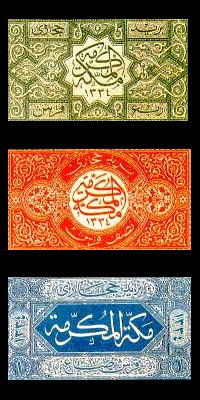 These postage stamps of the Hejaz were designed and printed by T.E. Lawrence. He once circulated a story that he had used a strawberry-flavoured glue which created a problem in that the Arabs used to buy the stamps just to lick them.
The Grand Sherif of Mecca declared Hejaz independent of Turkish rule and in February 1916 the stamps were issued. (Another source says "Printed in September 1916, they were issued in October")
A letter signed by Lawrence to Captain Ormsby-Gore of the Cairo Arab Bureau, complete with with the envelope franked with the first issue of Hejaz was sold at a London auction for US$200,000 sometime prior to June 2001.
More information is available in a pamphlet by W.B. Haworth and H.l. Sargent titled 'The Postage Stamps of the Hejaz', Junior Philatelic Society, London, 1922. (64 pp.)
Thanks to Aaron Bartels for supplying the images and original story.

----
Another source states the following:
In 1921-1922 Husayn, relying on secret commitments given him by the British during World War I and wishing to indicate that his domains were not restricted to the Hijaz alone, reissued these stamps with an Arabic overprint reading "Hashimite Arab Government" and the Hijrah date 1340. A short time later a set of locally printed stamps appeared with the same inscription as well as the arms of the Hashimite family,and in 1924 this set was reissued with an overprint commemorating the proclamation of King Husayn as caliph.
This page has very good coverage of the subject.
---
British Guyana issued a stamp in 2000 featuring the image of Lawrence of Arabia.

BS Home | sitemap | Brough Superior at Sheldon's Emu
Copyright © 1997-2023 dropbears